Android
How to Get Better Battery Life and Performance on Your Android Phone with a New Kernel. Great Lock Screens for Go Locker. As you know, changing the launcher and lock screen of your phone can give you a completely revamped experience and make your phone feel brand new.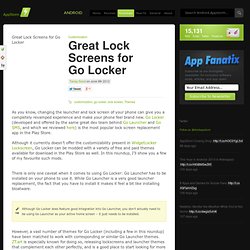 Go Locker (developed and offered by the same great dev team behind Go Launcher and Go SMS, and which we reviewed here) is the most popular lock screen replacement app in the Play Store. Although it currently doesn't offer the customizability present in WidgetLocker Lockscreen, Go Locker can be modded with a variety of free and paid themes available for download in the Play Store as well.
In this roundup, I'll show you a few of my favourite such mods. There is only one caveat when it comes to using Go Locker: Go Launcher has to be installed on your phone to use it. Steel ABS A6W Workout Trainer. Neon Genesis Evangelion SH-06D limited edition Android phone arrives June 29th (video) Sharp's heavily customized NERV Edition SH-06D phone finally has preorder and release date info on Japanese carrier NTT DoCoMo, and Neon Genesis Evangelion fanboys will want to get there early.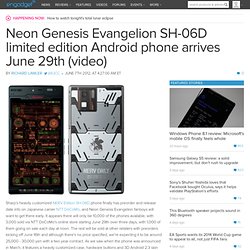 It appears there will only be 10,000 of the phones available, with 3,000 sold via NTT DoCoMo's online store starting June 29th over three days, with 1,000 of them going on sale each day at noon. The rest will be sold at other retailers with preorders kicking off June 16th and although there's no price specified, we're expecting it to be around 25,000 - 30,000 yen with a two year contract. [New App] InFoto Generates Beautiful And Informative Infographics From Your Pictures. Odds are that as long as your phone is not brand new, you've taken a fair number of photos with it.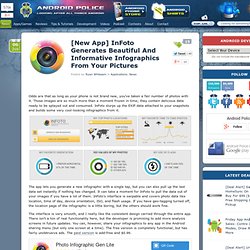 Those images are so much more than a moment frozen in time; they contain delicious data ready to be splayed out and consumed. InFoto slurps up the EXIF data attached to your snapshots and builds some very cool-looking infographics from it. The app lets you generate a new infographic with a single tap, but you can also pull up the last data set instantly if nothing has changed. It can take a moment for InFoto to pull the data out of your images if you have a lot of them. InFoto's interface is swipable and covers photo data like location, time of day, device orientation, ISO, and flash usage.
3 steps to get DNS tunneling on your smartphone. You need two things: root access rights and a TUN/TAP driver.
This driver creates a virtual network interface on your phone through which applications send the data. The interface encapsulates the data in DNS queries and sends them over the Wifi or mobile interface. MagicTunnel needs root access to create the virtual network interface and to reroute Internet traffic through it. Your phone may already have root access and a TUN/TAP driver, especially if you installed alternative firmwares such as CyanogenMod or a MoDaCo custom ROM. Tagy Redefines Minimalism, Replace Old Icons For Customizable Text Widgets. If the days of using normal icons to access the apps and folders you need are long over, then check out Tagy.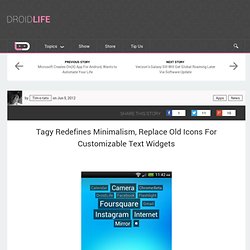 It's a pretty simple idea – instead of icons, you use text. Each word is an individual shortcut to the matching application and they can be customized to fit any look you desire. Choose from any color, tons of fonts, and the ability to arrange however you choose are just some of the ways Tagy can give your device a much needed makeover. It goes beyond just apps too, with the ability to use the widgets for contacts and also website bookmarks. §.
On{X} MARKET. SetOn{x}
---