Impact Investing
Global Impact Investing Network
Nick O'Donohoe, CEO of Big Society Capital (BSC), an independent financial institution established in 2012 to develop and shape a sustainable social investment market in the UK, shares his perspective with the GIIN community. In addition, BSC Board Chairman Sir Ronald Cohen adds his perspective, drawing on his experience with the development of the UK venture capital market. Lok Capital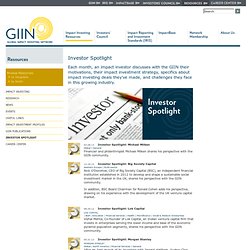 www.dblinvestors.com/index.php
GIIRS | Global Impact Investing Rating System
Aid to Artisans | International Development For Artisan Groups
Futures Group
Home Page of The Bridgespan Group: Nonprofit Strategy Consulting, Executive Search and Philanthropy Advising
CCLA
SocialEarth
Global Philanthropy Forum
Impact investing takes the best of the for-profit and the nonprofit systems and blends them to yield social, environmental and financial returns.
Impact Assets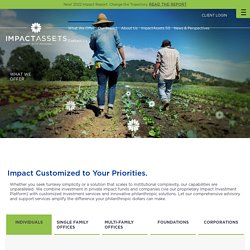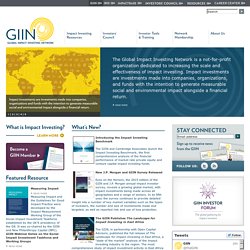 J.P. Morgan and the GIIN release new impact investing research Perspectives on Progress , the latest report by J.P.
Published in 2000 The term SROI has been used in various contexts to mean that nonprofits create social value.
The Social Investment Business