Impact Accelerators
Arabella Advisors
Bolder Giving: What we do
Bolder Giving's mission is to inspire and support people to give at their full lifetime potential We promote three ways to give boldly. Give more: The average giving in the U.S. is 2-3% of annual income. We help those who can afford it to take quantum leaps further.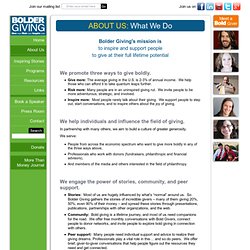 GRANDSTREET
Rockefeller Philanthropy Advisors
"Donors don't support a cause because of its efficiency; they support a cause for the impact that it secures for society - for all of us. Charting Impact will help to focus nonprofits - and their boards - on how to communicate who they are, what they achieve and how they achieve it, skills that all of us need to develop." Andrew Watt, president and CEO, Association of Fundraising Professionals Learn about the benefits of Charting Impact View completed Reports At the heart of Charting Impact are five deceptively simple questions that require reflection and promote communication about what really matters – results.
What is Charting Impact?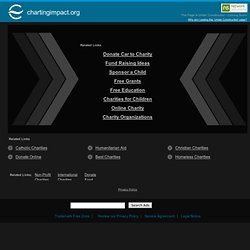 The Bridgespan Group: Nonprofit Strategy