Mktwalker
P&G Layoffs Signal Focus on Digital Industry. Last week was a tremendous change, giant marketer P&G announces 1600 layoffs as they reduce jobs in various roles, and instead shifting budget to digital marketing.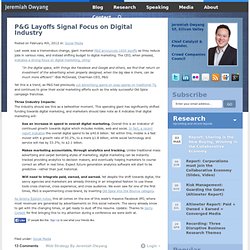 The CEO, when pressed, indicates a strong focus on digital marketing, citing: "In the digital space, with things like Facebook and Google and others, we find that return on investment of the advertising when properly designed, when the big idea is there, can be much more efficient" -Bob McDonald, Chairman-CEO, P&G Yet this is a trend, as P&G had previously cut advertising spend on soap operas on traditional TV, and continues to grow their social marketing efforts such as the wildy successful Old Spice campaign franchise. Three Industry Impacts: The industry should see this as a bellwether moment. This spending giant has significantly shifted funding towards digital marketing, and marketers should take note as it indicates that digital marketing will:
Project Tools. Internet Marketing.
---