Guitar Hardware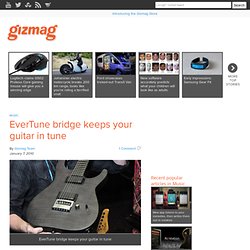 EverTune bridge keeps your guitar in tune Want your guitar to stay in tune, but can't afford a Gibson Robot Les Paul ? EverTune has a product in the works that will help. It won't help you switch tunings, or tune the guitar for you like Gibson's effort, but once you've tuned a guitar with an EverTune bridge, it apparently stays tuned forever. There's nothing digital on board, just "simple mechanical principles". As your strings or tuning posts loosen, an adaptive spring-tensioner compensates, and keeps tension locked exactly to where you set it.
EverTune bridge keeps your guitar in tune
Fender Guitar Parts Made to Vintage Spec
Rare Guitar Parts : Vintage Guitar Parts, Guitar Bridges, Tuners, Necks, Bodies, Pickups, Hardware and Electronics
Guitar & Bass Parts Resource
Aguilar Amplification: Bass Pedals, Bass Pickups, Bass Preamps, Bass Amplifiers, and Bass Speaker Cabinets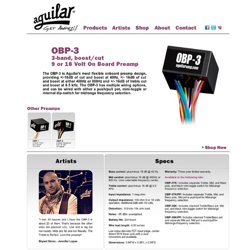 Bass control: plus/minus 18 dB @ 40 Hz. Mid control: plus/minus 16 dB @ 400Hz or 800 Hz. User selectable frequency center.
Luthiers Mercantile International, Inc. Guitar Builder Wood and
GuitarElectronics.com GuitarElectronics.com Home Page
New Site We are proud to announce the launch of our new UK site. All new features include a search function, more detailed descriptions, bulk buying discounts (mainly on electronics at the minute), easier communication, and one page check out.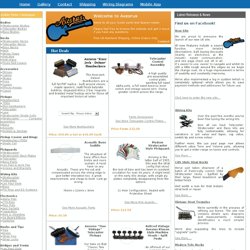 Guitar parts spares online -Axesrus