Japon seisme tsunami catastrophe nucleaire
Comprendre l'accident de Fukushima en 3 minutes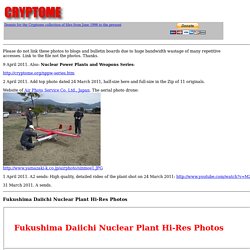 Please do not link these photos to blogs and bulletin boards due to huge bandwidth wastage of many repetitive accesses. Link to the file not the photos. Thanks. 9 April 2011.
Fukushima Daiichi Nuclear Plant Hi-Res Photos
Japan Quake Map
Spécial Japon sur Usinenouvelle.com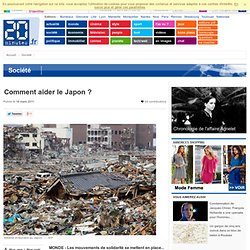 3.373 morts, 1.897 blessés et 6.746 disparus: alors que le bilan ne cesse de s'alourdir au Japon, la communauté internationale s'active pour aider le pays du soleil levant. Des associations et grands groupes (Google, Facebook, Apple) sollicitent également le public: Le secours populaire récolte les dons via son site internet ou par courrier à l'adresse Secours populaire français, Urgence tsunami, 9/11, rue Froissart BP 3303, 75123 Paris Cedex 03.
Comment aider le Japon ?