Learning Theories & Brain Function
Introduction to Inquiry Based Learning. At the Calgary Science School we focus on inquiry-based learning, technology-intergration and outdoor/environmental education.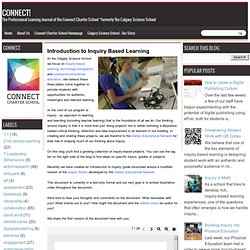 We believe these three pillars come together to provide students with opportunities for authentic, meaningful and relevant learning. At the core of our program is inquiry - an approach to learning and teaching (including teacher learning) that is the foundation of all we do. Our thinking around inquiry is that it is more than just 'doing projects' but is rather nurturing a dispostion toward critical thinking, reflection and idea improvement in all learners in our building. In creating and sharing these projects, we are thankful to the Galileo Educational Network for their role in shaping much of our thinking about inquiry. 37648.pdf (application/pdf Object) Facebook helps, hinders high school reunions. Facebook has revolutionized the way we communicate—and class reunions have changed because of it, too.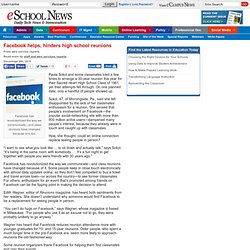 Paula Sokol and some classmates tried a few times to arrange a 30-year reunion this year for their Sacred Heart High School Class of 1981, yet their attempts fell through. On one planned date, only a handful of people showed up. Sokol, 47, of Morningside, Pa., said she felt disappointed by the lack of her classmates' enthusiasm for a reunion. How to learn things automatically. Automatic neurofeedback learning (credit: Boston University) OK, this one's right out of The Matrix and The Manchurian Candidate.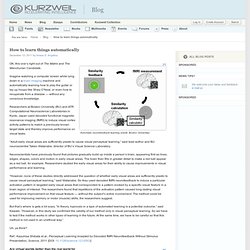 Imagine watching a computer screen while lying down in a brain imaging machine and automatically learning how to play the guitar or lay up hoops like Shaq O'Neal, or even how to recuperate from a disease — without any conscious knowledge.
Why children watch multi-screens. Researchers at the University of Bristol and Loughborough University have examined the relationship children have with electronic viewing devices and their habits of interacting with more than one at a time.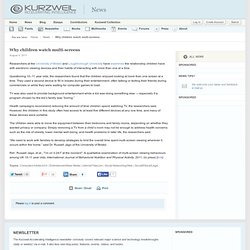 Questioning 10–11 year olds, the researchers found that the children enjoyed looking at more than one screen at a time. They used a second device to fill in breaks during their entertainment, often talking or texting their friends during commercials or while they were waiting for computer games to load. How many objects can you hold in mind simultaneously?
Neuroscientists at MIT's Picower Institute for Learning and Memory have found that cognitive capacity limitations (the ability to hold about four things in our minds at once) reflect a dual model of working memory.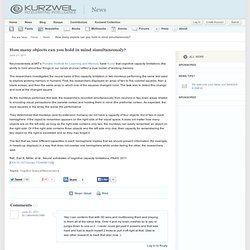 The researchers investigated the neural basis of this capacity limitation in two monkeys performing the same test used to explore working memory in humans. First, the researchers displayed an array of two to five colored squares, then a blank screen, and then the same array in which one of the squares changed color. The task was to detect this change and look at the changed square. Formativeassessment-technology - home. Bloom's Taxonomy Blooms Digitally, Andrew Churches. 4/1/2008 By: Andrew Churches from Educators' eZine Introduction and Background: Bloom's Taxonomy.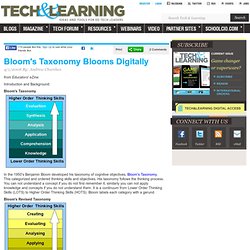 SU11_PersonalizedLearning_Students.pdf (application/pdf Object)
---