Flipped Classroom
Sal Khan's 'Academy' sparks a tech revolution in education. Salman Khan (credit: Khan Academy) Salman Khan's simply narrated, faceless home videos on everything from algebra to French history have been viewed half a billion times.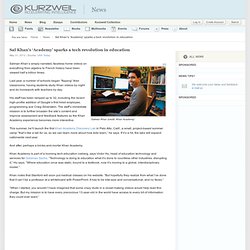 Last year, a number of schools began "flipping" their classrooms, having students study Khan videos by night and do homework with teachers by day. His staff has been ramped up to 32, including the recent high-profile addition of Google's first hired employee, programming ace Craig Silverstein. Flipped Classroom Infographic #flippedclassroom #blendedlearning #edtech. Flipping the Classroom. 4/27/2012 By: Teachers from around the world have adopted the flipped classroom model and are using it to teach a variety of courses to students of all ages.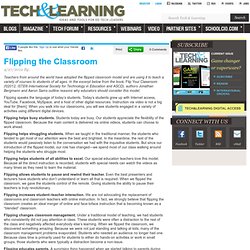 In the excerpt below from the book, Flip Your Classroom (©2012, ISTE® International Society for Technology in Education and ASCD), authors Jonathan Bergmann and Aaron Sams outline reasons why educators should consider this model. Flipping speaks the language of today's students. Today's students grew up with Internet access, YouTube, Facebook, MySpace, and a host of other digital resources. Instruction via video is not a big deal for [them]. Why Khan Academy is so popular—and why teachers shouldn't feel threatened. Founder Sal Khan discusses his nonprofit venture during NSBA's annual conference From staff reports Read more by eSchool News Staff Sal Khan's nonprofit now contains more than 3,100 free video tutorials, mostly on math and science—but the site has begun expanding its scope to other subjects, too.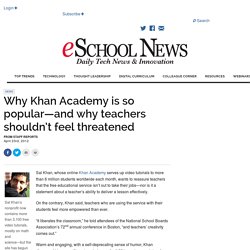 Sal Khan, whose online Khan Academy serves up video tutorials to more than 6 million students worldwide each month, wants to reassure teachers that the free educational service isn't out to take their jobs—nor is it a statement about a teacher's ability to deliver a lesson effectively. Flipteaching. 'Flipped classroom' teaching model gains an online community. Peer Instruction relies on the power of the "flipped classroom.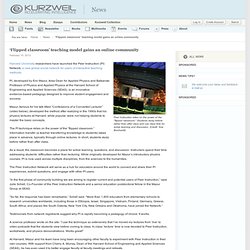 " Students study before rather than after class and use class time for active learning and discussion. (Credit: Sue Borchardt) Harvard University researchers have launched the Peer Instruction (PI) Network, a new global social network for users of interactive teaching methods. PI, developed by Eric Mazur, Area Dean for Applied Physics and Balkanski Professor of Physics and Applied Physics at the Harvard School of Engineering and Applied Sciences (SEAS), is an innovative evidence-based pedagogy designed to improve student engagement and success. Mazur, famous for his talk titled "Confessions of a Converted Lecturer" (video below), developed the method after realizing in the 1990s that his physics lectures at Harvard, while popular, were not helping students to master the basic concepts. Flipped Classroom Information from Educause. How A Flipped Classroom Actually Works [Interview]
What happens when the students have more control in the classroom?
Flipped classrooms are being tested out around the world and we've featured a few examples in case you wanted to see who is flippin' out. Until now, we didn't have an in-depth look at the effects of a flipped classroom or answers to the big questions it raises. Thanks to Susan Murphy of Algonquin College (check out her awesome blog suzemuse.com !) , we have our answers. No more paper, no more books. 3/28/2012 By: Len Scrogan Digital content, streaming media, and on-demand learning resources are cascading into schools, replacing a tired generation of antiquated tools and practices.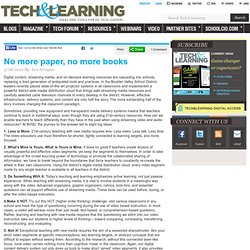 In the Boulder Valley School District, leaders recently placed state-of-the-art projector systems in all classrooms and implemented a powerful district wide media distribution cloud that brings safe streaming media resources and carefully selected cable television channels to every desktop in the district. However, effective infrastructure, delivery systems, and content are only half the story. The more exhilarating half of the story involves changing the classroom paradigm.
---