Grief
Steps of Grief |Stages of grieving | 5 Stages of Grief | Losing a loved one | Bereavement Support
Grief Support "Death leaves a heartache no one can heal, love leaves a memory no one can steal". ~An Irish saying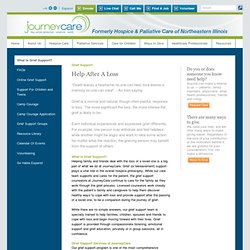 Hospice & Palliative Care of Northeastern Illinois | What Is Grief Support
A Guide for Those Helping Others with Grief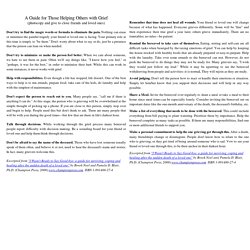 A Guide for Those Helping Others with Grief (photocopy and give to close friends and loved ones) Don't try to find the magic words or formula to eliminate the pain. Nothing can erase or minimize the painful tragedy your friend or loved one is facing. Your primary role at this time is simply to "be there." Don't worry about what to say or do, just be a presence that the person can lean on when needed. Don't try to minimize or make the person feel better.
June 2009 Featured Books:<br> LGBT Pride Month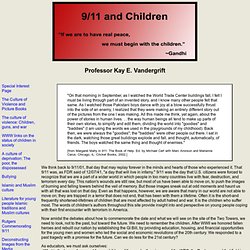 9/11 and Children
We think back to 9/11/01, that day that may replay forever in the minds and hearts of those who experienced it. That 9/11 was, as FDR said of 12/07/41, "a day that will live in infamy." 9/11 was the day that U.S. citizens were forced to recognize that we are a part of a wider world in which people in too many countries live with fear, destruction, and terrorism every day. This nation's wounds are still raw, but most of us have been able to move on, to push the images of burning and falling towers behind the veil of memory. But those images sneak out at odd moments and haunt us with all that was lost on that day. Even as that happens, however, we are aware that many in our world are not able to move on; they are trapped in a terror that does not end, that has been with them a lifetime.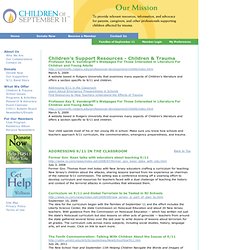 Professor Kay E. Vandergrift's Webpages For Those Interested in Literature For Children and Young Adults http://comminfo.rutgers.edu/professional-development/childlit/index.html March 5, 2009 A website based in Rutgers University that examines many aspects of Children's literature and offers a section specific to 9/11 and children. Addressing 9/11 in the Classroom Learn About Emergency Preparedness in Schools Find Resources to Help Teachers Understand the Effects of Trauma Professor Kay E. Vandergrift's Webpages For Those Interested in Literature For Children and Young Adults http://comminfo.rutgers.edu/professional-development/childlit/index.html March 5, 2009 A website based in Rutgers University that examines many aspects of Children's literature and offers a section specific to 9/11 and children. Your child spends most of his or her young life in school.
Children's Support Resources - Children & Trauma - Children of September 11
Home - Children of September 11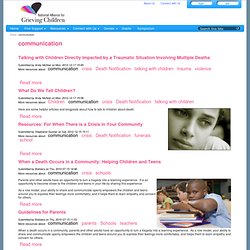 Communicating with families during a time of crisis is essential. It iss important for all the children to have the same information to avoid rumors, which start quickly. Written communication is essential, even if the announcement is to be made verbally. It is important that everyone have the same facts.
communication | National Alliance for Grieving Children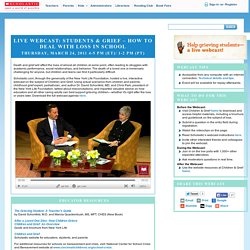 LIVE WEBCAST: Students & Grief – How to Deal with Loss in School on Thursday, March 24, 2011 4-5 pm (ET)/ 1-2 pm (PT) | Scholastic Live Webcasts
The Grieving Student A Teacher's Guide By David Schonfeld, M.D., & Marcia Quackenbush, M.S., M.F.T., C.H.E.S. Foreword by MaryEllen Salamone Teachers can be a critical lifeline for a grieving child—and now they have a practical guidebook to help them provide sensitive support to students of all ages.
Grief Facts - What to say to a grieving person
Grief Facts - How To Help Grieving Children
Sudden Loss Handout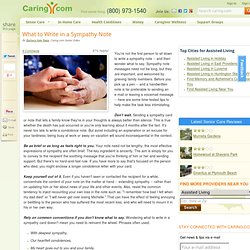 Sympathy Note | What to Write in a Sympathy Note
You're not the first person to sit down to write a sympathy note -- and then wonder what to say. Sympathy note messages need not be long, but they are important, and welcomed by grieving family members. Before you pick up a pen -- and a handwritten note is far preferable to sending an e-mail or leaving a voicemail message -- here are some time-tested tips to help make the task less intimidating. Don't wait. Sending a sympathy card or note that lets a family know they're in your thoughts is always better than silence. This is true whether the death has just occurred or you're only learning about it months after the fact.
Healthy Children Radio: Talking About Tough Subjects With Children (Audio)
Disaster Resources
Pediatric Terrorism and Disaster Preparedness: Chapter 8. Mental Health Issues
BUILDING RESILIENCE - A PRETEEN'S GUIDE
HELPING YOUR CHILD COPE WITH LIFE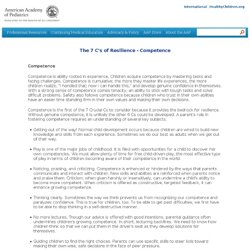 The 7 C's of Resilience - Competence Competence Competence is ability rooted in experience. Children acquire competence by mastering tasks and facing challenges. Competence is cumulative; the more they master life experiences, the more children realize, "I handled that; now I can handle this," and develop genuine confidence in themselves.
Parent-Kit-Info
Several emotions come over us following a traumatic experience, such as the death of a family member. We each find coping mechanisms to deal with these experiences – some healthy, some not. Working with parents and teens, one of the most frequent negative physical response to grief I have heard is the violent expression of anger.
Helping an Angry Child After the Death of a Family Member | Hello Grief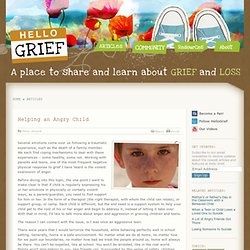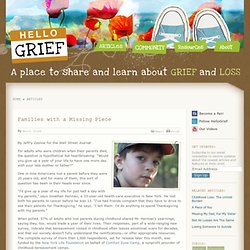 By Jeffry Zaslow for the Wall Street Journal For adults who were children when their parents died, the question is hypothetical but heartbreaking: "Would you give up a year of your life to have one more day with your late mother or father?" One in nine Americans lost a parent before they were 20 years old, and for many of them, this sort of question has been in their heads ever since.
How a Parent's Early Death Can Have an Impact Decades Later | Hello Grief
As a child, I remember Mother's Day and Father's Day as big events every time they rolled around. Not only were we given school projects to bring home in recognition of our parents, but within my family, the opposite parent (Dad on Mother's Day, Mom on Father's Day) would bring my sisters and me on a shopping excursion to find the perfect gift. We would spend that Sunday together, usually going to church in the morning, and having a family lunch or dinner. We'd take care of the chores and let Mom or Dad rest.
Father's Day Without Dad: A Grieving Daughter's Reflection | Hello Grief
CBS Morning News: How Children Grieve | Hello Grief
The Work of Grief | Hello Grief
Do you ever wonder why you feel so exhausted and depleted so much of the time? There is an excellent reason for that. The work of grief is a constant drain to the system.
Starting conversations about death and grief | Hello Grief
I've spoken with several surviving parents, or care givers that have one thing in common: the wish that their child, or children, will find a place to talk about their loss and share their feelings. I have heard this in numberous ways: "He keeps his feelings bottled up inside." "She freezes up when I try to talk about Daddy." "She just refuses to talk about it with me."
Children grieve differently than adults. A grieving child will look just like any other child, but even though their grief may not be as outwardly expressed, it does not mean they are not grieving. While each child will react differently to loss based on personality and age, these are a few common signs to help recognize grief: Separation anxiety — child becomes "clingy," has trouble saying "good-bye" to loved ones, fears leaving his or her parent(s), even for a short time. Regression — child reverts to bed wetting or thumb sucking Impatience — child becomes overly frustrated and angered during the course of daily activities Withdrawal — child becomes unemotional, separates from his or her friends and family Inattentive — child has trouble focusing in school Protectiveness — child acts paternally towards his or her siblings
Children Grieve Differently — Common reactions from age groups | Hello Grief
The below article was originally posted on www.americanwidowproject.com . The American Widow Project is a non-profit organization dedicated to the new generation of those who have lost the heroes of yesterday, today and tomorrow, with an emphasis on healing through sharing stories, tears and laughter… Military Widow to Military Widow. 6 boxes are all that is left of my husband.
The 6 Black Boxes - A Military Widow's View | Hello Grief
Hello Grief - Grief Support - Bereavement Support - Grieving Support Groups - Support Groups for Grief
Corporation - Your Grief Resource Center
National Center for School Crisis and Bereavement
EDUCATORS: MORE RESOURCES
Clifford's Big Idea: Be a Good Friend
What Your Tween Worries About Most
Supoprt for Grieving Children
Communication: Ways to Make Contact and Keep It Going
Children & Grief | Scholastic
New York Life Grief Guide
Bereavement Guidelines | Student or School Staff Death
The Grieving Student: A Teacher's Guide (Schonfeld & Quackenbush)
School Crisis / Emergency Preparedness Resources | National Center for School Crisis and Bereavement
Templates for Parents, Students, Staff During Loss