Autism resources
Socials skills song to promote eye contact for kids with ASD
Products | AutismTeachingStrategies.com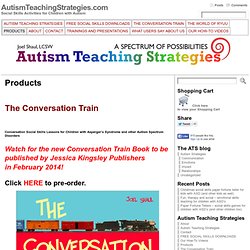 Conversation Social Skills Lessons for Children with Asperger's Syndrome and other Autism Spectrum Disorders Watch for the new Conversation Train Book to be published by Jessica Kingsley Publishers in February 2014! Click HERE to pre-order. Using a fantasy world of dragons to build social skills in humans. Ryuu – The Game® is a collection of teaching aids based on a fantasy world of dragons. Ryuu World activities teach social and emotional skills to children and teens with autism, Asperger Syndrome, and other autism spectrum disorders.
Understanding the Ritualistic Behavior of Lining Up Objects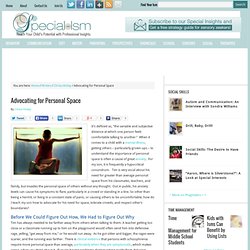 Advocating for Personal Space
It's defined as, "the variable and subjective distance at which one person feels comfortable talking to another." When it comes to a child with a mental illness, getting others – particularly grown ups – to understand the importance of personal space is often a cause of great anxiety. For my son, it is frequently a hypocritical conundrum. Tim is very vocal about his need for greater than average personal space from his classmates, teachers, and family, but invades the personal space of others without any thought. Out in public, his anxiety levels can cause his symptoms to flare, particularly in a crowd or standing in a line.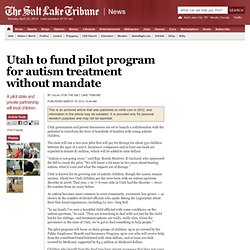 This is an archived article that was published on sltrib.com in 2012, and information in the article may be outdated. It is provided only for personal research purposes and may not be reprinted. Utah government and private businesses are set to launch a collaboration with the potential to transform the lives of hundreds of families with young autistic children. The state will run a two-year pilot that will pay for therapy for about 350 children between the ages of 2 and 6. Insurance companies and at least one bank are expected to donate $1 million, which will be added to state dollars.
Utah to fund pilot program for autism treatment without mandate
Speaking of useful apps, this one's a genuine life-changer
Great communicator ... Johnny Mavrothalassitis, 8, can now talk with his family thanks to an iPad application designed to help children with autism improve their speech. Photo: Steven Siewert John Mavrothalassitis used to communicate using pictures and one or two words.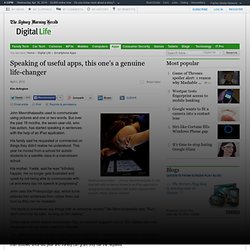 Learning With Asperger's: A Parent's Perspective
The Online Asperger Syndrome Information and Support Center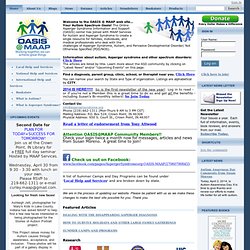 SUSAN MORENO SPEAKING AT TRANSITIONS CONFERENCE!!!Susan Moreno is a featured speaker at the Transistions Conference on Friday, January 31 2014 at Lynn University in Boca Raton FL. You can register online by going to www.lynn.edu/transistions Hope to see you there!!! ******************** Speaker Tour: Dr James CoplanNeurodevelopmental Pediatrician, Author and Speaker has will be speaking at the on 1-17-14 in Los Angeles, on 2-06-14 in Plymouth Meeting PA, and 01-21 through the 23 at the CEC-DADD International Conference. For more information go to www.drcoplan.com ***********************OPEN REGISTRATION !!!!
'Underdiagnosed' Girls With Autism Struggle to Fit In
<br/><a href="http://abcnews.go.com/us">ABC US News</a> | <a href="http://abcnews.go.com/business">ABC Business News</a> Copy At first glance, 8-year-old Kaede Sakai is a typical first grader. She's a smart student, and most of the time she is kind and cordial in class.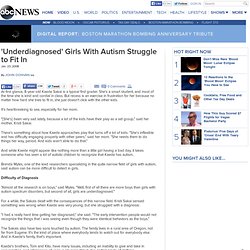 PDD assessment scale/screening questionnaire
Autism: Emergency Personnel Information - MyASDF.org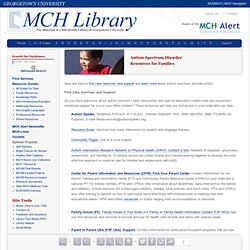 Here are links to find care, services, and support and learn more about autism spectrum disorder (ASD). Find Care, Services, and Support Do you have questions about autism services? early intervention and special education? health care and insurance?
MCH Library Family Resource Brief: Autism Spectrum Disorders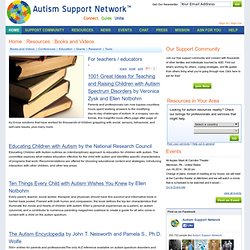 1001 Great Ideas for Teaching and Raising Children with Autism Spectrum Disorders by Veronica Zysk and Ellen Notbohm Parents and professionals can now bypass countless hours spent seeking answers to the mystifying day-to-day challenges of autism. In a snappy, can-do format, this insightful book offers page after page of try-it-now solutions that have worked for thousands of children grappling with social, sensory, behavioral, and self-care issues, plus many more. Educating Children with Autism by the National Research Council Educating Children with Autism outlines an interdisciplinary approach to education for children with autism. The committee explores what makes education effective for the child with autism and identifies specific characteristics of programs that work.
For teachers / educators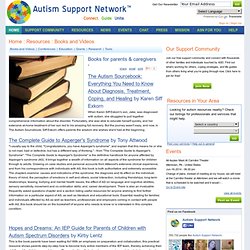 The Autism Sourcebook: Everything You Need to Know About Diagnosis, Treatment, Coping, and Healing by Karen Siff Exkorn When Karen Siff Exkorn's son, Jake, was diagnosed with autism, she struggled to pull together comprehensive information about the disorder. Fortunately, she was able to educate herself quickly, and her extensive at-home treatment of her son led to his amazing full recovery. But the journey wasn't easy, and now, in The Autism Sourcebook, Siff Exkorn offers parents the wisdom she wishes she'd had at the beginning. The Complete Guide to Asperger's Syndrome by Tony Attwood "I usually say to the child, "Congratulations, you have Asperger's syndrome", and explain that this means he or she is not mad, bad or defective, but has a different way of thinking." - from "The Complete Guide to Asperger's Syndrome".
Books for parents & caregivers
The Complete Guide to Asperger's Syndrome by Tony Attwood "I usually say to the child, "Congratulations, you have Asperger's syndrome", and explain that this means he or she is not mad, bad or defective, but has a different way of thinking." - from "The Complete Guide to Asperger's Syndrome". "The Complete Guide to Asperger's Syndrome" is the definitive handbook for anyone affected by Asperger's syndrome (AS). It brings together a wealth of information on all aspects of the syndrome for children through to adults. Drawing on case studies and personal accounts from Attwood's extensive clinical experience, and from his correspondence with individuals with AS, this book is both authoritative and extremely accessible.
For those with autism / Asperger's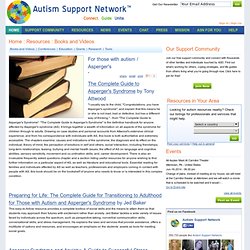 Autism Support Network -- Free Global Autism & Asperger Community
Need free help with autism? Seeking information about symptoms and treatments? Do you wish to know more about Asperger's or Fragile X? Are you seeking to connect with others who are going through the same thing as you? The Autism Support Network connects families and individuals touched by ASD with each other, provides support and insight, and acts as a resource guide for education, treatments, strategies and therapies for autism.
Current Modules (43)
Autism Internet Modules | Module List
Photographic Learning Cards, Emotions at School Supply Store
Each of the 24 illustrated cards describes how you can soothe your child (and yourself!) with a different method - physical, auditory/verbal, visual, creative, selfnurturer, and humor. Another 16 cards provide step-by-step instructions for parents and teachers on games and activities to use with the calming cards.
Self Calming Cards [GB2157] - $12.99 : Special Needs Toys | Teaching Special Needs Children Equipment | Child Therapy Toys
What Do I Do? follows a similar format as What Do I Say? as it encourages young learners to understand what is expected at school and how to behave in everyday situations that arise. The first sentence of each page expresses a need, such as "I need to ask a question.
What Do I Do? Appropriate School Behaviors Interactive Reading Books | Interactive Reading Books | e-Special Needs
Interactive Reading Book - What Do I Do? ~ Interactive Reading ~ Books
What Do I Say? An Interactive Reading Book of Appropriate Social Responses
Interactive Reading Books - What Do I Say? Appropriate Social Responses
Social Skills Board Games [PR3060] - $30.95 : Special Needs Toys | Teaching Special Needs Children Equipment | Child Therapy Toys
Electronic Success Stories - $26.99 : Special Needs Toys | Teaching Special Needs Children Equipment | Child Therapy Toys
Autism Papers--Structured Teaching:Strategies for Supporting Students with Autism pg 2
Social Thinking-Social Learning Tree
*New* I Get It! Building Social Thinking and Reading Comprehensi
K-2 Student Interactives
Lesson Plans-SchoolCounseling.org - Social Skills : Special Needs Toys | Teaching Special Needs Children Equipment | Child Therapy Toys
Your place for disability resources, products, services and support at One Place for Special Needs
I'm Here - FableVision Learning
unnamed pearl
Sample IEP for child with autism/
Girls With Social Deficits and Learning Problems:
The Online Asperger Syndrome Information and Support Center
Study finds autistic toddlers' brains out of sync
10 Fun Activities for Children with Autism
Autism Social Skills Lessons - A QUEST for Social Skills
Books | Autism books, research, conferences | Autism Asperger Publishing | asperger.net
Autism Classroom
Vincent Carbone: Verbal Behavior | CHILDNETT.TV
CHILDNETT.TV
CHILDNETT.TV
School of Education at Johns Hopkins University-How Educators and Support Professionals Can Help Families
Autism Archives
Social Narratives | kansasasd.keystonelearning.org
additional resources
behavior support
disability rotations
Christine Hoffner Barthold, M.Ed., BCBA - Education and Support for Children Christine Hoffner Barthold, M.Ed., BCBA - Education and Support for Children
Form Menu
Parent support
The Internet Picture Dictionary
autism grocery list helper
pecs 45
visual support
SOCIAL STORIES
Welcome to Families Together, Inc.'s Home Page
Autism Games
Ohio Center for Autism and Low Incidence | Home
Training
index
Autism Internet Modules | Welcome
IATTAP
Mozilla Firefox
Social Stories
IsThisPersonMyFriendPositive
Social Stories | Autism & The Mighty Mother
Picking nose social story
Facial Expressions Test
Mozilla Firefox
Parent Tips - Autism Games
The Magic of Duration Charts
Rote Language And Ecolalia - Autism Games
Rules for Computer - Autism Games
How to write Social Stories™
Siblings of Children with Special Health Needs
Educational Resources for Special Needs
Visual Recipes
Autism Hangout
Autism Classroom | Behavior Plan
I TEACH AUTISM.COM - Autism Teaching Tools - Teaching Kids with Autism - teaching strategies for children with autism - autism teaching resources and lesson plans - PDD teaching techniques - teaching social skills autism - Aspergers Resources
pecs,nonverbal communication,pcs,augmentive communication
Autism Picture Cards - 3478 Wonder Picture cards, Pecs, Autism Cards, Autism, Autistic Spectrum Disorder, pervasive developmental disorders
Download CrossOver Mac Standard Trial - CodeWeavers
Free Programs to Make Communication Boards and Free Symbols Sets