Video class
Pages: 1 , A Virtual Camera One of the systems that Flash doesn't have that many other animation environments have is a virtual camera. Many professional animation systems allow you to set up a virtual camera that can itself be animated. This allows you to create the sort of camera work seen in traditional films, including pans, zooms, and fades. Flash uses a more old-fashioned system based around a stage.
ActionScript for Non-Coders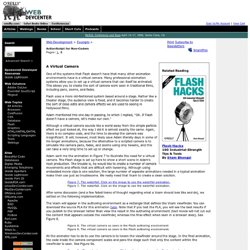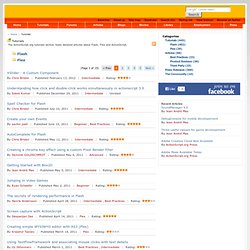 Advertise About us Site map Syndicate Search site Mailing list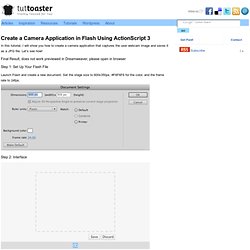 Create a Camera Application in Flash Using ActionScript 3
In this tutorial, I will show you how to create a camera application that captures the user webcam image and saves it as a JPG file. Let's see how! Final Result, does not work previewed in Dreamweaver, please open in browser Step 1: Set Up Your Flash File Launch Flash and create a new document.
Tutorial Actionscript 3 - How to use a webcam on Flash | Miguel Moraleda
I've been worried about this topic for a long time now, especially when I work as freelancer. Because every time I demo a project to a clients, I always fear they will decompile the SWF and disappear. I might be paranoid, but not too far from reality. Fortunately I've never had any problems like this, but I still prefer to be protected. Besides, these attacks are used for other purposes such as intellectual property theft, search for security flaws and exploits, and so on. It is also a very important issue when your application is of commercial value, as it is even more tempting to get the full benefit in a gruesome way.