Projects
History Mystery. How would you like to become a great investigator — of history!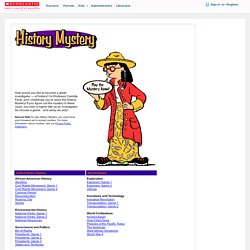 I'm Professor Carlotta Facts, and I challenge you to solve the History Mystery! If you figure out the mystery in fewer clues, you earn a higher title as an investigator. So choose a game…and away we play! Unit Study Project Ideas by Cindy Downes - Oklahoma Homeschool. Suggestions of things you can do to integrate learning into other subjects while doing unit studies: Read/Write Learners: Read library books related to the topic.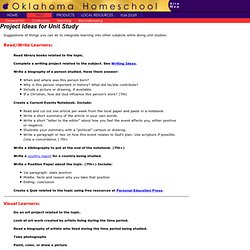 Complete a writing project related to the subject. Fourth Grade Internet Activities. Fourth Grade Internet Based Activities Fourth Grade Internet Activities are listed below.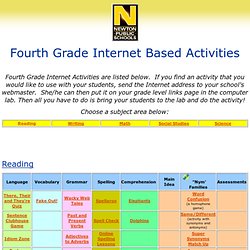 If you find an activity that you would like to use with your students, send the Internet address to your school's webmaster. Guide for Teachers - Stars and Triangles - Classroom Games. A game called ''Stars and Triangles'' that introduces the concepts of absolute and comparative advantage in international trade.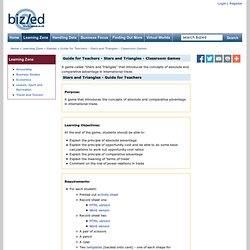 Purpose: A game that introduces the concepts of absolute and comparative advantage in international trade. Learning Objectives: At the end of the game, students should be able to: Explain the principle of absolute advantageExplain the principle of opportunity cost and be able to do some basic calculations to work out opportunity cost ratiosExplain the principle of comparative advantageExplain the meaning of 'terms of trade'Comment on the role of power relations in trade. Historic Maps in K-12 Classrooms - For Teachers. Atlas - Xpeditions @ nationalgeographic.com. You may download this map, modify it, and use it in any way, provided that you charge no fee for anyone to view or use any item that includes or is based on this map.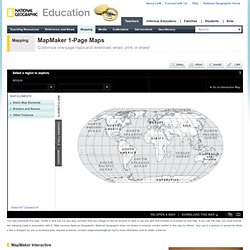 If you use this map, you must include the following credit in association with it: "Map courtesy National Geographic. National Geographic does not review or endorse content added to this map by others. " Any use in a product or service for which a fee is charged, by you or someone else, requires a license; contact natgeocreative@ngs.org for more information and to obtain a license. Fourth Grade Web Activities. E-mail Web Manager - Technology Training Specialist and Teacher Revised March 16, 2012 12:48 PM Nebraska Standards Not responsible for pages found by linking beyond this site.
Every attempt has been made to use graphics that are free use or public domain. Learning Tools - Timeline tool.
---