Aikido
The British Aikido Board
I regret to announce that as of the 1st February a number of Associations, have left the BAB. The BAF, UKA, UKAU, Komyokan and British Birankai, have left to form their own group, the Joint Aikido Council, which aims to develop more direct links with the Aikikai Foundation, Japan. In addition the BAA has decided that the BAB no longer meets their objectives. This is obviously very sad news as they have had a long and valued association with the BAB and it is my strongly held view that if we are to grow aikido in the UK then we should be working together rather than fragmenting into a number of small groups. Having said that we must respect the right of individuals to pursue their own destiny and in that respect we wish them well in the future. It is only regretful that because of the way the groups decided to handle their departure we did not have the opportunity to discuss the issues that led to their believing they could no longer work within the BAB and perhaps have found a solution.
Welcome to the British Ki Society
Promotion: 2014 Aikikai Kagami Biraki Promotions List Posted 1/12/2014 11:52am [from Jun Akiyama] The Aikikai Hombu Dojo has put up their Kagami Biraki new year's promtions list on their website: http://www.aikikai.or.jp/jpn/info/2014/h26.pdf Congratulations to everyone on the list! Seminar: Chicago Kangeiko with Meido Moore Sensei (6th dan) , 2/8-2/9/14 Posted 1/12/2014 11:52am [from K. Radtke] Shinjinkai in Chicago will host its annual Kangeiko (winter training seminar), led by Meido Moore Sensei on Feb. 8-9.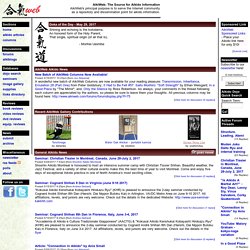 Welcome to the British Ki Society