Novell
Doc: Novell Modular Authentication Services (NMAS) 3.2.1 Administration Guide - Novell Modular Authentication Services (NMAS) 3.2.1 Administration Guide
Learning guide: Samba
Cool Solutions
We are thrilled to announce the new home of Cool Solutions — on the Novell Communities site at www.novell.com/communities This site was built using the popular open source tool called Drupal (Drupal.org), and it is a doozy. In addition to Cool Solutions, the community site is the new home for Novell Users International (NUI), and PartnerNet partners also have a secure section in which they can work with each other and with Novell. There is a lot to be gained from using one community infrastructure to house all those communities. For example, you'll be able to see when NUI events are taking place near you, in case you want to join in. And some of your AppNotes and Installation articles can be leveraged for NUI Install Fests.
One Giant Leap: Cool Solutions gets some New Digs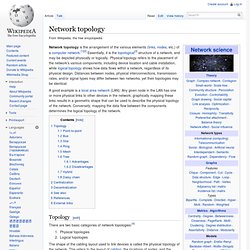 A good example is a local area network (LAN): Any given node in the LAN has one or more physical links to other devices in the network; graphically mapping these links results in a geometric shape that can be used to describe the physical topology of the network.
Novell Access Manager 3.1