Twitter
How to Use Twitter for Marketing & PR. Editor's Note: Check out our latest ebook on How to Use Twitter for Business, complete with updates for 2011!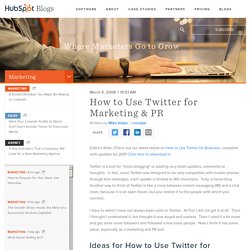 Click here to download it. Twitter is a tool for "micro-blogging" or posting very short updates, comments or thoughts. In fact, since Twitter was designed to be very compatible with mobile phones through text messages, each update is limited to 140 characters. The Best Subtle Things About New Twitter. So, the new version of Twitter.com is upon us — well, some of us anyway (it's in the process of a gradual roll-out right now that will likely last over the next couple of weeks).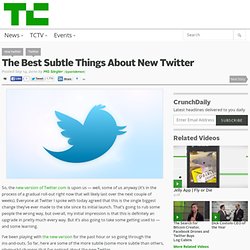 Everyone at Twitter I spoke with today agreed that this is the single biggest change they've ever made to the site since its initial launch. That's going to rub some people the wrong way, but overall, my initial impression is that this is definitely an upgrade in pretty much every way. But it's also going to take some getting used to — and some learning. I've been playing with the new version for the past hour or so going through the ins-and-outs.
So far, here are some of the more subtle (some more subtle than others, obviously) changes that I've noticed about the new Twitter. 10 idées d'utilisation des listes sur Twitter. Comment faire le buzz sur les réseaux sociaux ? Les réseaux sociaux sont de très bons outils.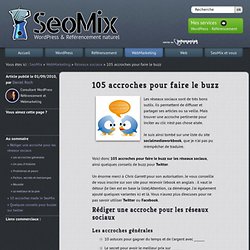 Ils permettent de diffuser et partager ses articles ou sa veille. Mais trouver une accroche pertinente pour inciter au clic n'est pas chose aisée. Je suis ainsi tombé sur une liste du site socialmediaworkbook, que je n'ai pas pu m'empêcher de traduire. Voici donc 105 accroches pour faire le buzz sur les réseaux sociaux, ainsi quelques conseils de buzz pour Twitter. Want to Make Money on Twitter? Take a Look at How Dell Does It. This post originally appeared on the American Express OPEN Forum, where Mashable regularly contributes articles about leveraging social media and technology in small business.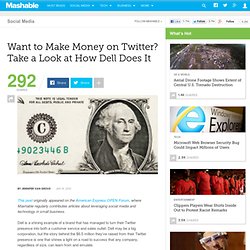 Dell is a shining example of a brand that has managed to turn their Twitter presence into both a customer service and sales outlet. Dell may be a big corporation, but the story behind the $6.5 million they've raised from their Twitter presence is one that shines a light on a road to success that any company, regardless of size, can learn from and emulate. I asked Dell's Senior Manager for Corporate Affairs, Richard Binhammer — otherwise known as RichardatDell — to elaborate on Dell's Twitter success.