Social Media
Intracom: comment intégrer les médias sociaux à sa stratégie? J'étais invitée aujourd'hui à donner une keynote à l'occasion d'Intracomm 2011 à Montréal, et c'est avec grand plaisir que je suis venue faire profiter le public québécois de mon accent vaudois.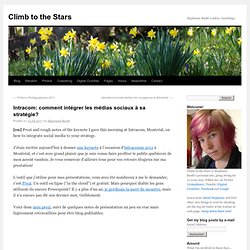 Je vous remercie d'ailleurs tous pour vos retours élogieux sur ma prestation! L'outil que j'utilise pour mes présentations, vous avez été nombreux à me le demander, c'est Prezi. Un outil en ligne ("in the cloud") et gratuit.
Google Reader (1000+) Twitter. The Rise of Social Network Ad Spending. This post was written by Jenny Urbano, our Social Media Manager.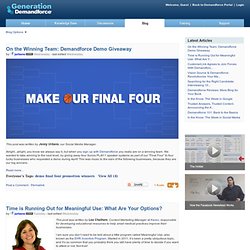 Here at Demandforce, we love seeing and celebrating your ideas! And more than that, we love to hear from YOU. We want to bridge the gap between us and you, so that's why we're offering a once in a lifetime opportunity to win a trip to San Francisco, sightsee in this amazing city, visit Demandforce headquarters and share your ideas with us!
6 winners, and a guest of their choice will be flown out to San Francisco, California on March 12-14th, 2014, where they will stay in Union Square, spend a day at Demandforce, have dinner with the team, and explore the lovely City by the Bay! For contest rules, and how to enter, please visit our post in the Generation Demandforce Community here.
PayPal France. Facebook. SM ROI. SM crise.
---