Social Media
J'étais invitée aujourd'hui à donner une keynote à l'occasion d'Intracomm 2011 à Montréal, et c'est avec grand plaisir que je suis venue faire profiter le public québécois de mon accent vaudois. Je vous remercie d'ailleurs tous pour vos retours élogieux sur ma prestation! L'outil que j'utilise pour mes présentations, vous avez été nombreux à me le demander, c'est Prezi. Un outil en ligne ("in the cloud") et gratuit.
Intracom: comment intégrer les médias sociaux à sa stratégie?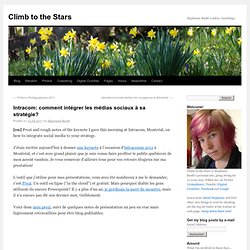 Google Reader has been discontinued. We want to thank all our loyal fans. We understand you may not agree with this decision, but we hope you'll come to love these alternatives as much as you loved Reader. Sincerely,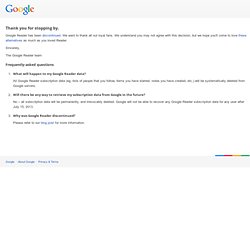 Google Reader (1000+)
This post was written by Liz Frisch, our Trade Show Coordinator. Here at Demandforce, we exhibit at over 300 trade shows and industry events each year. Last month we packed our warmest clothes and flew back east to the Greater New York Dental Meeting. Trade shows tend to be filled to the brim with industry experts and excited attendees, and Greater New York was no exception. We joined 8,000 exhibitors at the Javits Convention Center where we had the chance to showcase our awesome product to over 50,000 dental professionals from across the country. As the Trade Show Coordinator at Demandforce, most of my time is spent planning our events from the office, so it is especially exciting when I get the opportunity to hit the road to organize and oversee events in person.
The Rise of Social Network Ad Spending