Hobbies
Old Masters - Since 1953 - Quality Stains - Finishes - Stain - Color Compass - Inspiration Gallery - Store Locations - Learn - Technical Resources
Gilded Building details made from wood, stone, fiberglass and metal take on the dynamic qualities of gold - its luster and color. The correct selection of gold leaf, its gold content and thickness, will ensure a long lasting gilded ornament. Gold Content Gold leaf is manufactured in a wide range of colors and karats. Leaf made from 100% gold is 24kt.
Exterior Gilding - Gold leafing technique how to gold leaf exterior surfaces, outside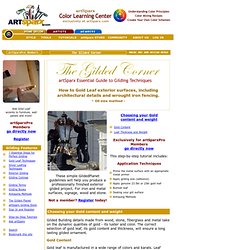 Home
London Gilding
Craquele : Βάλτε φύλλα χρυσού στα παλιά σας έπιπλα. « Painting advisor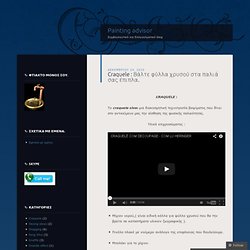 Το craquele είναι μια διακοσμητική τεχνοτροπία βαψίματος που δίνει στο αντικείμενο μας την αίσθηση της φυσικής παλαιότητας. Υλικά επιχρυσώματος : Μίχιον νερού,( είναι ειδική κόλλα για φύλλο χρυσού που θα την βρείτε σε καταστήματα υλικών ζωγραφικής ). Πινέλο πλακέ με νούμερο ανάλογο της επιφάνειας που δουλεύουμε.