Hobbies
*Free delivery over £50 refers to home delivery orders placed on diy.com only. Charges refer to the value of goods being delivered and excludes delivery from stores or services. Excludes bulk delivery. †Excludes Next Day Delivered Bulky Goods. **£450 must be spent in a single transaction to qualify for the offer.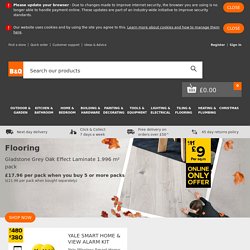 Old Masters - Since 1953 - Quality Stains - Finishes - Stain - Color Compass - Inspiration Gallery - Store Locations - Learn - Technical Resources
Gilded Building details made from wood, stone, fiberglass and metal take on the dynamic qualities of gold - its luster and color. The correct selection of gold leaf, its gold content and thickness, will ensure a long lasting gilded ornament. Gold Content Gold leaf is manufactured in a wide range of colors and karats. Leaf made from 100% gold is 24kt.
Exterior Gilding - Gold leafing technique how to gold leaf exterior surfaces, outside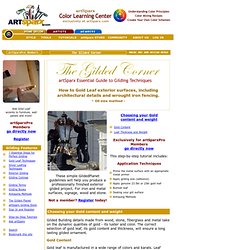 Home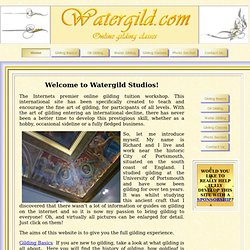 Welcome to Watergild Studios! The Internets premier online gilding tuition workshop. This site has been specifically created to teach and encourage the fine art of gilding, for participants of all levels. With the art of gilding entering an international decline, there has never been a better time to develop this prestigious skill, whether as a hobby, occasional sideline or a fully fledged business. So, let me introduce myself. My name is Richard and I live and work near the historic City of Portsmouth, situated on the south coast of England.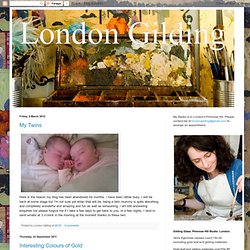 London Gilding
Here is the reason my blog has been abandoned for months. I have been rather busy. I will be back at some stage but I'm not sure yet when that will be, being a twin mummy is quite absorbing and completely wonderful and amazing and fun as well as exhausting. I am still answering enquiries but please forgive me if I take a few days to get back to you, or a few nights. I tend to send emails at 3 o'clock in the morning at the moment thanks to these two.
Craquele : Βάλτε φύλλα χρυσού στα παλιά σας έπιπλα. « Painting advisor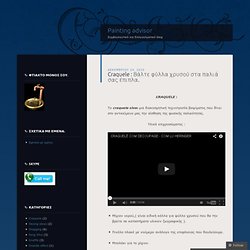 Το craquele είναι μια διακοσμητική τεχνοτροπία βαψίματος που δίνει στο αντικείμενο μας την αίσθηση της φυσικής παλαιότητας. Υλικά επιχρυσώματος : Μίχιον νερού,( είναι ειδική κόλλα για φύλλο χρυσού που θα την βρείτε σε καταστήματα υλικών ζωγραφικής ).Πινέλο πλακέ με νούμερο ανάλογο της επιφάνειας που δουλεύουμε.Μπολάκι για το μίχιον.Πανί μαλακό χωρίς χνούδια.Φύλλα χρυσού αληθινά ή ψεύτικα.( Στα καταστήματα ζωγραφικής )Λούστρο ( κατά προτίμηση ματ απόχρωσης ). Εκτέλεση Επιχρυσώματος :