Abroad
News. Cholesterol unlocks clues to prostate cancer spread(16 Apr 2014)Scientists have uncovered a link between cholesterol and prostate cancer's ability to spread to the bones in a study published in the British Journal of Cancer today.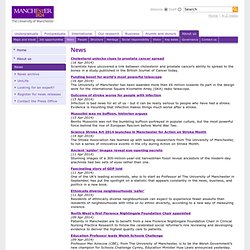 Funding boost for world's most powerful telescope(16 Apr 2014)The University of Manchester has been awarded more than £6 million towards its part in the design work for the international Square Kilometre Array (SKA) radio telescope. Outcome of stroke worse for people with infection(15 Apr 2014)Infection is bad news for all of us - but it can be really serious to people who have had a stroke.
Glasgow, Scotland, UK. Manchester Metropolitan University. Homepage. University of Cambridge.
---