Futurs achat
Olympus OM-D E-M5 Micro Four Thirds camera preview (video) The Olympus E-M5 Unites an Intuitive Built-In Electronic Viewfinder with the World's First*1 5-Axis Image Stabilization and World's Fastest*2 Autofocusing System inside a Powerfully Portable and Rugged Dustproof and Splashproof Body CENTER VALLEY, Pa., February 7, 2012, 9:00pm – Today Olympus builds upon the 40-year legacy of the OM SLR film camera series and marks the beginning of the new digital imaging era with the launch of the Olympus E-M5, the first of the new Olympus OM-D (OM Digital) Series of Micro Four Thirds™ products.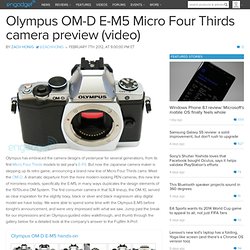 Designed to meet the needs of advanced photographers, the Olympus E-M5 is packed with a built-in electronic viewfinder, superior image technology, blazing fast speed and total creative control in a classic, rugged body ready for sand, sun, sleet or snow. Olympus OM-D E-M5, look rétro, 16 Mpx, viseur intégré : 990 euros. OM-D E-M5.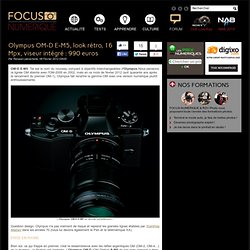 Tel est le nom du nouveau compact à objectifs interchangeables d'Olympus.Nous pensions la lignée OM éteinte avec l'OM-2000 en 2002, mais en ce mois de février 2012 (soit quarante ans après le lancement du premier OM-1), Olympus fait renaître la gamme OM avec une version numérique plutôt enthousiasmante. L'Olympus OM-D E-M5 se dévoile partiellement... E-M5. The High Resolution 1.4million dot EVF, with a 120 fps refresh rate, is a 100% accurate high eye point electronic viewfinder, delivering precise preview accuracy of highlight/shadow control, white balance and exposure for unlimited creative control. Eye sensor technology provides automatic switching between EVF and 3" tilt monitor. The shooter can choose from three different EVF informational display modes. The new 16-megapixel Live-MOS sensor coupled with the newly developed TruePic VI Image Processor delivers increased ISO sensitivity up to a staggering 25,600 ISO level. Fast data readout for seamless continuous shooting and support for the FAST AF system. This new processor delivers excellent dynamic range, accurate color fidelity and reduced noise, all the way up to maximum 25,600 ISO. Olympus EM-5 (OMD) Hands on by The Phoblographer.