Felting
Elizabeth Abernathy: Natasha Fadeeva Tiny Animals. Wet felted trivet. Stiffening Felt. This file is a collection of various messages having the common theme of stiffening felt,collected from the feltmaker's list.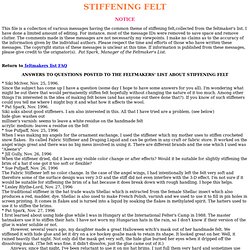 I have done a limited amount of editing. For instance, most of the message IDs were removed to save space and remove clutter. Felting Hints. Back to Feltmaker's List FAQ Page SOLUTIONS TO KEEPING THE FELT PIECE WARM DURING FELTING *Helene Carter, 11 Feb. 1997.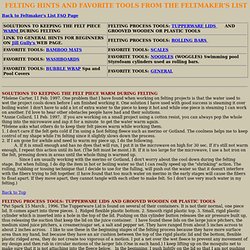 One problem that I have found when working on felting projects is that the water used to wet the project cools down before I am finished working it. One solution I have used with good success is steaming it over boiling water. I don't have to add a lot of extra water to the piece to keep it hot and while one piece is steaming I can work on another. Fashioning-Felt at Cooper-Hewitt. Central Library, Amsterdam, the Netherlands, 2007.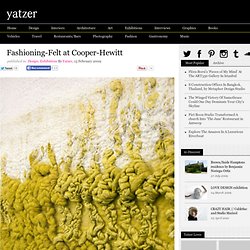 Architect: Jo-Coenen & Co. Architecten. How to make a felt rug « Adventures in Wool Addiction. This is an explanation of rug felting based on classes taken with Halima of www.Wandersheep.com, Mehmet Girgiz and Theresa May O'Brien, Karen Page, research thru reading various felting books, and personal experimentation.
This is just enough information to get a felter hooked but how you expand it is up to your imagination. I plan to write a more detailed and formal explanation in the near future. Felt - Willow Mullins. The Felt Belt: History of Felt in the East » Wandering Sheep. The Felt Belt Felt making in the East during the SCA period by Halima bint al-Rabii', modernly known as Lorna Rankin feltinglady@yahoo.com www.wanderingsheep.com (Note: If you know me well enough to see me at SCA events, I do have a version of this with pictures that I can show you.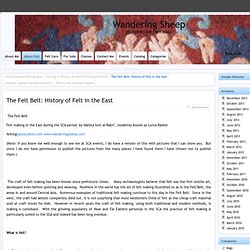 But since I do not have permission to publish the pictures from the many places I have found them I have chosen not to publish them.) The craft of felt making has been known since prehistoric times.
Felting forums
Felted shoes. Playing God. I was lucky enough to win a giveaway recently.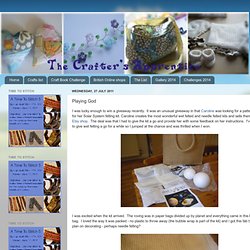 It was an unusual giveaway in that Caroline was looking for a pattern tester for her Solar System felting kit. Caroline creates the most wonderful wet felted and needle felted kits and sells them in her Etsy shop. The deal was that I had to give the kit a go and provide her with some feedback on her instructions. I've wanted to give wet felting a go for a while so I jumped at the chance and was thrilled when I won. I was excited when the kit arrived. Unusually colored soles - Great idea for handmade shoes. At the end I have designed the color sole for my felted shoes.Now all of my felted slippers can be worn outdoors without the fear of get wet or tear.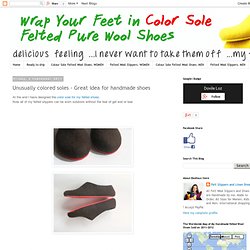 The body of the shoes is made by me from natural wool, using wet felting technique. The color of sole is Bright Red. My boots. Felt cafe japan - japanese craft guide. This book is a the edition of isbn 9784277563109 animal mascots, with a new cover (above), but the same projects. here's the cover from the former edition, isbn 9784277563109 animal mascots. this book is the cutest japanese craft book yet. full of wacky and adorable needlefelted critters, including the postal donkey (below) which might be my favorite. it includes 19 main projects, and several of them include many variations. the projects have very whimsical titles, and include relevant props to create the unique animal personalities.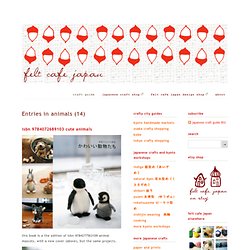 Further exploration for my ArtL!nks project. Is more surface detail ever less??? « Clasheen by Nicola Brown. You know the saying 'less is more' but do you think that the opposite holds and would it be possible to say that 'more is less' at times as well???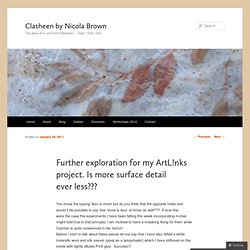 If ever this were the case the experiments I have been felting this week incorporating mohair might hold true to that principle, I am inclined to have a sneaking liking for them while Carmen is quite unreserved in her horror! Before I start to talk about these pieces let me say that I have also felted a white Icelandic wool and silk vessel (great as a lampshade!) Which I have stiffened on the inside with lightly diluted PVA glue. Success!!! Thin felt vessel stiffened on the inside with PVA. How to make a wet felted pod/vessel using a resist. Please don't tell me you have a Great Dane !!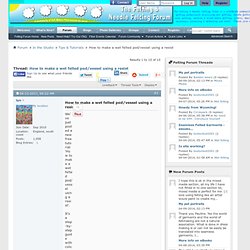 Seriously though, you can make these pods any size you want. This is a fruit bowl made the same way but with a larger hole. Mug rug with craft template.
---