Design & Style Inspiration
This little Piggy is going to market! CALLOOH CALLAY » Blog Archive » cc-macrame-header. Unique and Creative Bookshelves. Modern macrame. Reading Space Design - Kosha by Claudio D'amore | Trendir - Devina Divecha. Journalist. Reading Space Design - Kosha by Claudio D'amore It was with great passion that Claudio D'amore created the Kosha chair we see here.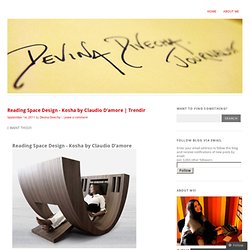 With this chair, design and wellbeing are strongly connected. Essentially, Kosha is not jus a chair, but a space. More specifically, a reading space. Its precise ergonomic design allows for a seated retreat among your favorite literature. - Arren Williams Design Lab. The Ace Hotel & Swim Club in Palm Springs was jam packed during the recent Coachella fest (click here to see the arty goings on over on Poppytalk), but I'm wondering, did anyone stop to check out the hotel's cool macramé installation?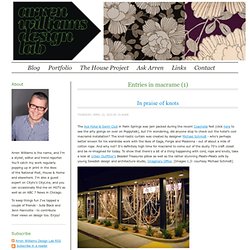 The knot-tastic curtain was created by designer Michael Schmidt - who's perhaps better known for his wardrobe work with the likes of Gaga, Fergie and Madonna - out of about a mile of cotton rope. And why not? It's definitely high time for macramé to come out of the dusty 70's craft closet and be re-imagined for today. A Place for Pallets.. I have a pile of pallets my husband brought home from the transfer station.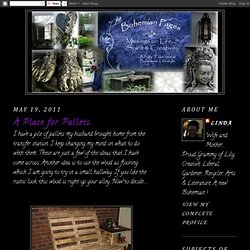 I keep changing my mind on what to do with them. These are just a few of the ideas that I have come across. Another idea is to use the wood as flooring which I am going to try in a small hallway. If you like the rustic look, this wood is right up your alley. Now to decide...... Fan Chair Natural. Google Analytics This site uses Google Analytics, a web analytics service provided by Google, Inc.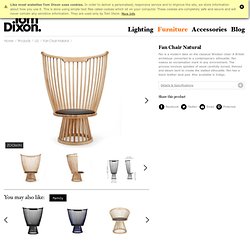 Google Analytics sets number of cookies (default is 4) in order to evaluate your use of the site and compile reports for us on activity on the site. Google stores the information collected by the cookie on servers in the United States. Google may also transfer this information to third parties where required to do so by law, or where such third parties process the information on Google's behalf. Google will not associate your IP address with any other data held by Google. Favorite Modern Hanging Gardens for the New Year Garden Party. In 2010 I could not get enough of vertical wall gardens, but already in this brand new year I'm feeling a kind of aesthetic shift towards something a little less structured and more exotic.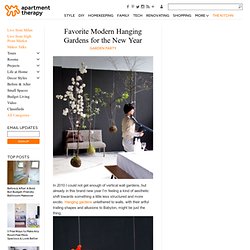 Hanging gardens untethered to walls, with their artful trailing shapes and allusions to Babylon, might be just the thing. Hanging plants may make you think of cheesy seventies-era macramé or precious moss-covered cottage garden planters (both of which, I might argue, possess their own charms), but in fact there are lots of interesting modern options for creating hanging gardens, ranging from sleek planters to the (less practical) artfully balled-up clods of dirt and roots. String Gardens (pictured above), created by Amsterdam Redlight Design, are stunning little plots of planted earth that look as if they've been yanked right up out of the ground, defying gravity and exposing their lovely roots.
Israeli Designer Talia Mukmel Makes Ephemeral Objects from Earth, Flour, Sand and String. Inspired by the crafts and basic materials used by African tribes, Israeli designer Talia Mukmel created a series of the funky, bumpy containers seen above.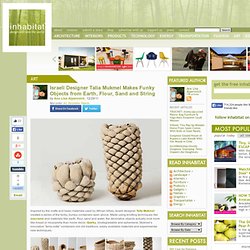 Made using knotting techniques like macramé and materials like earth, flour, sand and water, the decorative objects actually look more like bread or mozzarella than home decor. Quirky, biodegradable and ephemeral, Mukmel's innovative "terra-cotta" containers mix old traditions, easily available materials and experimental new techniques. To make these fantastic objects, the young designer first crafted macramé containers using a heat-proof tough string. Then she mixed and rolled the sand, water and earth with flour, which helps bind everything together, and wrapped the string basket with the dough. Lastly, she baked her creations in the oven for a few minutes. Enlarged Product Photo. Cappellini Knotted Chair By Marcel Wanders - Cappellini - Marcel Wanders. The knotted chair designed by marcel wanders/droog design in 1996 and now produced by cappellini. an instant classic. this small armchair is made of macramé knotted carbon and aramide fiber cord with an epoxy resin finish. each chair is shaped by gravity and the hands that made it. regular appearance is slightly greenish. also available in chromed finish dimensions : 20.87"w x 28.74"h x 25.2"d - (may vary)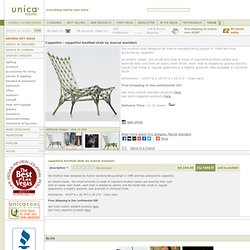 4ft Handmade Mega Doily Rug by ladiesandgentlemen. <div id="javascript-nag" class="notice"><p> Take full advantage of our site features by enabling JavaScript.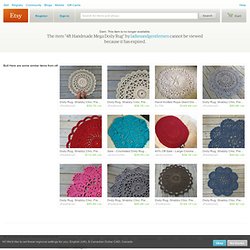 <a href=" more</a>. </p></div> Nice Knots: Macramé Made Modern. Modern Needlecraft. I'm seeing more and more knitting, crochet, and macramé utilized in home-decor products lately.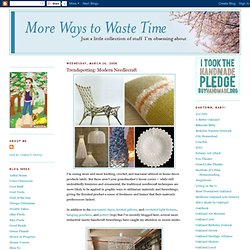 But these aren't your grandmother's tissue cosies -- while still undoubtedly feminine and ornamental, the traditional needlecraft techniques are more likely to be applied in graphic ways to utilitarian materials and furnishings, giving the finished product a sense of freshness and humor that their matronly predecessors lacked.
In addition to the macraméd chairs, knitted pillows, and crocheted light fixtures, hanging pendants, and pottery (top) that I've recently blogged here, several more industrial-meets-handicraft furnishings have caught my attention in recent weeks: Modern Macramé. Modern Waterproof Wood Sinks And Tubs From UWD. ShareThis In 1979, UWD (Unique Wood Designs) began by building yachts, boats and canoes.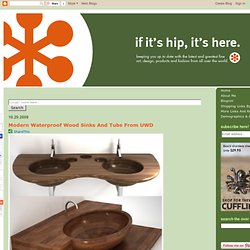 After thirty years they had developed a very high quality boat-building and carpentry workshop, so they began looking ahead. Takayuki Hori's Beautiful X-Ray Origami Animals Shine Light on 8 Endangered Species Takayuki Hori's animals X-ray origami – Inhabitat - Green Design Will Save the World.
Kitchen
Embroidery. Mid century modern. Designers. Design ideas. A home should be hip. Cocoon: A Fruit Basket and Herb Planter in One! String art.
Baby shoe inspiration. Shoes. Vintage animal illustrations. Jewelry. Ideas. Dine & Drink - Huset-Shop.com | Your House For Modern Scandinavian. Home Furnishings | Design Milk - Page 2. Emmo Home - Modern & Unique Home Furnishings, Designs, Decorating & Accessories, Modern Lamps & Lighting, Stereo System, Trash Cans & Waste Bins. In stock Ready to ship Dot Vase Felted Wool by papaververt. *Dot Vase with fuchsia dot**Last one!!!! **Includes glass vase* As seen in the New York Times:
The first canadian webzine dedicated to global design. The Nouveau Art Revival: 1900 - 1933 - 1966 - 1974 Philippe Thiébaut + Marie Dussaussoy, March 5, 2012 Forgotten, discredited even, for many decades, Art Nouveau was rehabilitated in the 1960s in a way that affected the history of art and the art market as much as contemporary creative work (design and graphics). There were many reasons for this revival: tributes paid by the Surrealists in the 1930s, the Organic Design in Home Furnishings competition organised by the MoMA in 1940, major exhibitions put on in New York (Art Nouveau. Art and Design at the Turn of the Century, MoMA, 1959), and in Paris (Les sources du XXe siècle, Musée National d'Art Moderne, 1960).
Carlo Bugatti, chaise "Escargot", 1902_Musée d'Orsay-Patrice Schmidt_Adagp, Paris 2009. Felt rugs by melina raissnia for peace industry. 1960s Furniture Styles Pictures - Interior Design from the 1960s. Style « HomeShoppingSpy. It's not everyday you can walk into a shop and come out with a vintage jelly mould reinvented as a pendant lamp, a Mexican bingo set, moose shaped firelighters and a deckchair. But if you're lucky enough to live near the market town, Corbridge in Northumberland, you can! (For those that don't, you can of course buy online, phew!) Focus on form - page 94. Modern Hanging Mobiles, Eco-friendly Lighting, Home Decor.
Lighting. Color. Who's Been Online ‹ Print This | Plan That — WordPress. Architecture and living spaces. Clothes. Inspiration. Design*Sponge | Your home for all things Design. Home Tours, DIY Project, City Guides, Shopping Guides, Before & Afters and much more. Design and Style Blogs For Inspriation. Furniture Design & Style Inspiration.
---