Bookbinding
DIY Sketchbook Holders. Stationary lovers, writers, journal keepers… meet Hope House Press | Sleep is for the Weak. Good morning.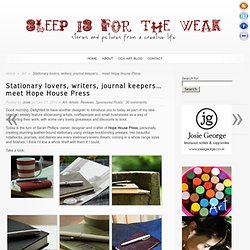 Delighted to have another designer to introduce you to today as part of my new (almost) weekly feature showcasing artists, craftspeople and small businesses as a way of supporting their work, with some very lovely giveaways and discounts to boot. Today is the turn of Sarah Phillips, owner, designer and crafter of Hope House Press, personally creating stunning leather-bound stationary using vintage bookbinding presses. Bookbinding Courses - Otterbookbinding | General and Craft bookbinders. Would you like to learn bookbinding or improve your skills?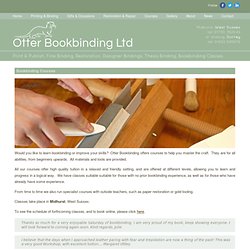 Otter Bookbinding offers courses to help you master the craft. They are for all abilities, from beginners upwards. All materials and tools are provided. All our courses offer high quality tuition in a relaxed and friendly setting, and are offered at different levels, allowing you to learn and progress in a logical way. We have classes suitable suitable for those with no prior bookbinding experience, as well as for those who have already have some experience. Bookbinding, wood veneer cover. Design: The Art of Bookbinding · Meanjin. There's really no other way to say this but bookbinding is truly, truly awesome.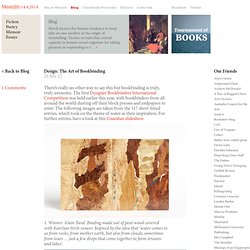 The first Designer Bookbinders International Competition was held earlier this year, with bookbinders from all around the world dusting off their block presses and endpapers to enter. The following images are taken from the 117 short-listed entries, which took on the theme of water as their inspiration. GBW 100th Anniversary Exhibition Catalog Bind-O-Rama. Charlene Matthews, Hollywood, CA, USA.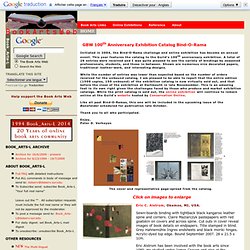 Bound September 2007. I had a copy already, but bought another set of loose sheets to bind. I decided to interweave both copies, same pages together, as through the years, I can see many of our lives interweaving together. It was a great experience, I was able to see and think about each book as I wove another into it, and I realized how I had not paid much attention to my peer's bindings as much as I should have. The cover was hard. Make a Book a Day: Book 324 - Recycled Vinyl Record Journal/Blank Book - Donna Summers - Coptic Binding. Finally Back!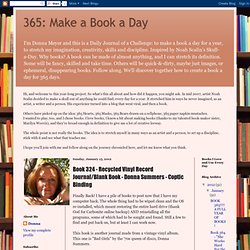 I have a pile of books to post now that I have my computer back. The whole thing had to be wiped clean and the OS re-installed, which meant restoring the entire hard drive (thank God for Carbonite online backup) AND reinstalling all the programs, some of which had to be sought and found. Still a few to find and put back on, but at least I can work now. This book is another journal made from a vintage vinyl album. This one is "Bad Girls" by the '70s queen of disco, Donna Summers.
Coptic Stitch « Lili's Bookbinding Blog. (The book above is currently available in my Etsy Shop) This book is a coptic book made to look like a Japanese Stab binding.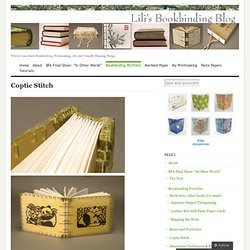 Because it was made as a wedding gift, I wanted it to open flat the way a coptic opens, but because the bride and groom had both spent time in Japan, I wanted to style it as a Japanese binding. The solution was to have Japanese-style stitching through the board as ornament, but not through the actual text block. (The book is available for sale at my Etsy Shop) Like this: How Plantable Paper Works | Botanical PaperWorks. How To Plant Plantable Paper a pot for planting some good potting soil plantable paper water a sunny corner Fill your pot 2/3 full with good potting soil.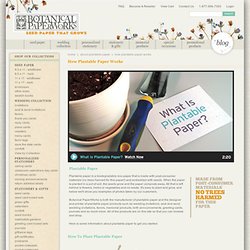 Tamp down the soil and add more if necessary. You want the pot to be firmly full, but not packed. The paper can be planted indoors or outside, so you get to choose according to the temperature and conditions at the time of planting (we don't recommend planting outside if it's blizzarding or desert-hot!). Talas || Professional Archival, Bookbinding, Conservation and Restoration Supplies. Inkling: corrugated composition books. I love the idea of covering a plain black speckled composition book and giving it a new look.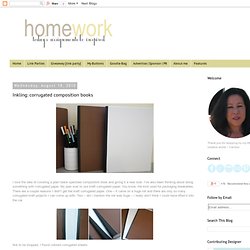 I've also been thinking about doing something with corrugated paper. My plan was to use kraft corrugated paper. You know, the kind used for packaging breakables. There are a couple reasons I didn't get the kraft corrugated paper. Project: Stamped Kraft Book Covers. I am always looking for inexpensive solutions for styling and decorating my home.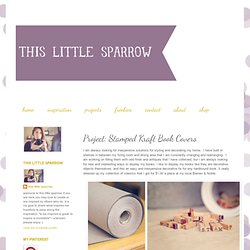 I have built in shelves in between my living room and dining area that I am constantly changing and rearranging. I am working on filling them with odd finds and antiques that i have collected, but I am always looking for new and interesting ways to display my books. I like to display my books like they are decorative objects themselves, and this an easy and inexpensive decorative fix for any hardbound book. It really dressed up my collection of classics that I got for $1.00 a piece at my local Barnes & Noble. The idea started with a roll of kraft paper I bought at Lowes for around 8.00, these roll are sold in their painting section it is called Brown Masking Paper.
Grey Book Binding Board-Grey Book Binding Board Manufacturers, Suppliers and Exporters on Alibaba. Medieval Carolingian Bookbinding. Slateblu: book binding. Last Saturday, when the kiddies went to the snow with their daddy, I had lunch with friends, who used to be colleagues at work.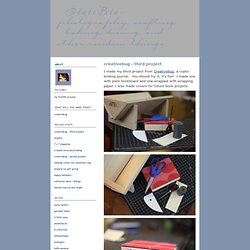 My friend Daisy is a very good cook so we had a homemade 4 course meal with extras to bring home. It was a great afternoon. I made handbound books for my two friends...and one soon to be finished for myself to write down photo notes for my picture files. The necessary supplies... Slate gray linen thread... Bookbinding Techniques « jimmiekat. During my portfolio class at Parsons this morning, I asked my teacher, Will van Roden, what he thought about including process into our portfolios, such as inspiration, thumbnail sketches, roughs, and so on. He replied that he thought it could be nice as a separate process book—not included in the regular portfolio but as an interesting separate design piece, with thumbnails in a nicely gridded layout, examples placed in in an interesting way, and so on—a well-designed book project in its own right.
This got me thinking about another book-binding project, and I started doing a little research. Japanese stab binding #3: jewels, fences, and bridges | becca making faces. Longstitch Bookbinding Tutorial for a Leather Journal | tortagialla.com - the creative journal of Artist Linda Tieu. The most common type of sewn bookbinding that I often default to, falls into the category of longstitch binding. It's really a general categorization for many different methods of sewn binding. People have invented their own patterns and techniques and have probably called it something else as well. Suffice to say, it's a general way to denote sewing your paper to the cover of your book. I'm sure you've noticed journals out there with exposed sewing in the binding in a variety of patterns and designs.
---