Blogging, analytics, tools, useful sites, etc.
San Francisco Bay Area Workshops & Networking Opportunities for Women
Color Palette Generator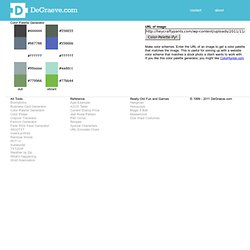 Color Palette Generator URL of image: Make color schemes. Enter the URL of an image to get a color palette that matches the image. This is useful for coming up with a website color scheme that matches a stock photo a client wants to work with.
Traffic Question #2from your traffic questions A Noni Mouse asked: What is the best and cheapest way to get lots of people to your website if you have no people to email your link to and you don't want to spam? Matthew Bagley asked: What is the best way of increasing traffic flow to your website free of charge? 10 Free Ways to Drive Traffic To A Brand New Website Once you create a website, the next step is to get traffic!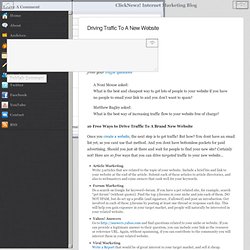 Driving Traffic To A New Website
SpyFu exposes the search marketing secret formula of your most successful competitors. Search for any domain and see every place they've shown up on Google: every keyword they've bought on Adwords, every organic rank, and every ad variation in the last 6 years. Learn how to connect with these domains, too. Find online and traditional leads methods -- social media, email, phone, and address -- you can't find anywhere else.