North carolina
Welcome to Black Creek Hill Farms! We Provide: Boarding, Riding Lessons, Hourly & Daily Guided Trail Rides, Partial Horse Leasing, On and Off Site Parties, Horse Sales,Horse Transportation, Stud Service, & Professional Horse Training. Serving: Benson, Coats, Clayton, Smithfield, Dunn, Erwin, Fayetteville, Garner, & Raleigh NC
Black Creek Hill Farms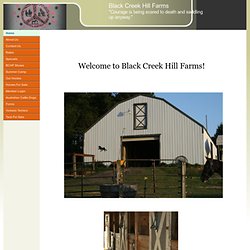 The Anonymous North Carolina Hiker
Well, it's been quite some time since I've posted here to the blog, for two main reasons, two reasons that tie into each other. First, I had my fourth child born this year, in December of 2011, and because of this first reason, I just haven't gotten out anywhere near as often as I'd like to. There is nothing to complain about, it's simply the reality of life at the moment. I was very fortunate then, when a planned family reunion hike in the Rocky Mountains was still a possibility, even though most of the family would not be there after all. The main point behind the hike had been my nephew's, Mike, desire to go on a hike with me as he had followed along here or on Facebook. After decisions and planning, we had decided on the Rocky Mountain National Park.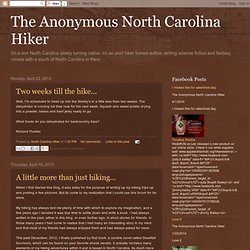 Carolina Outdoors Guide
Carolina Outdoors Guide is a compendium of federal and state recreation lands, such as national and state parks, in North Carolina (we are very slowing adding South Carolina parks and camping pages). Listings on the pages to the left include links to websites sponsored by the National Park Service, U.S. Forest Service, U.S. Fish and Wildlife Service, U.S.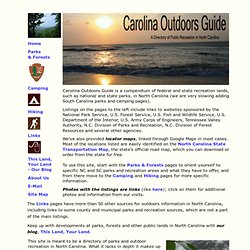 Hikes in the Southern Appalachians
Where Can I Find Real (Raw) Milk?
TLC Autowash & Fast Lube
Explore the Land of Waterfalls - Waterfalls In NC - North Carolina Travel & Tourism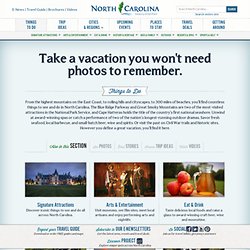 From the highest mountains on the East Coast, to rolling hills and cityscapes, to 300 miles of beaches, you'll find countless things to see and do in North Carolina. The Blue Ridge Parkway and Great Smoky Mountains are two of the most-visited attractions in the National Park Service, and Cape Hatteras holds the title of the country's first national seashore. Unwind at award-winning spas or catch a performance of two of the nation's longest-running outdoor dramas. Savor fresh seafood, local barbecue, and small-batch beer, wine and spirits. Or visit the past on Civil War trails and historic sites. However you define a great vacation, you'll find it here.
See The Banker Ponies Of The Coast - NC Coast & Beaches - North Carolina Travel & Tourism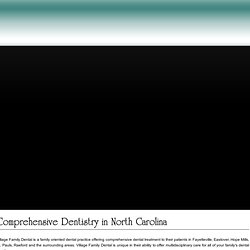 Village Family Dental is a family oriented dental practice offering comprehensive dental treatment to their patients in Fayetteville, Eastover, Hope Mills, St. Pauls, Raeford and the surrounding areas. Village Family Dental is unique in their ability to offer multidisciplinary care for all of your family's dental needs.
Village Family Dental
org, Salisbury, NC - Your Best Entertainment Bargain!
Host to more than sixty-three different types of naturally occurring gems and minerals, a virtual treasure trove of gemstones can be found at our gem mine! Many of these are very rare, including emerald, aquamarine, sapphire, garnet, topaz, amethyst, citrine, rutile, and tourmaline, along with an abundance of world class smoky and clear quartz crystals. Hiddenite is also famous as the only place on earth where the very rare gemstone "Hiddenite" can be found! Each year, thousands of rockhounds, tourists and educational field trip participants flock to this popular North Carolina attraction to experience the thrill of finding rare gemstones in the rough.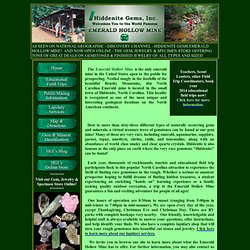 Hiddenite Gems, Inc.
Masons Ruby & Sapphire Mine - Home
Click on a picture to see it larger or if it scrolls to fast. Come to Sheffield Mine Leave your cares behind, Play in the dirt & Discover that ..... Gem Mining​ truly is a​ WORLD of FUN​ for​ EVERYONE!!! * Because Native Mining takes at least 2 hours, We accept our Last Customer usually around 3 pm BECAUSE - it REALLY takes about 1 hour for each Native Bucket & you get2 Starter Buckets with each Admission!!! NOT at all HARD, just time consuming!
Sheffield Mine
Deep Creek tubing in the Smokies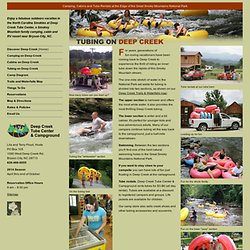 How many tubes can you load up? Tubing the "whitewater" section On the tubing trail After tubing, pick up a snack at our campground store. For years, generations of fun-loving vacationers have been coming back to Deep Creek to experience the thrill of riding an inner tube down the rapids of this Smoky Mountain stream. The one-mile stretch of water in the National Park set aside for tubing is divided into two sections, as shown on our Deep Creek Trails & Waterfalls map: