Herbal crafting
How to Make Your Own Natural Tick Repellent. Ticks are small arachnid insects that are considered ectoparasites, because they feed on the blood of humans and animals by staying on the outside of the host's body.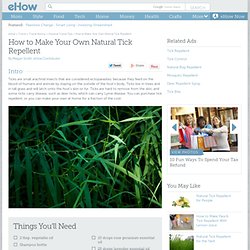 Ticks live in trees and in tall grass and will latch onto the host's skin or fur. Ticks are hard to remove from the skin, and some ticks carry disease, such as deer ticks, which can carry Lyme disease. You can purchase tick repellent, or you can make your own at home for a fraction of the cost. Homemade "Vicks Vapor shower disks". Have you seen the commercials for the Vicks Vapor shower disk thingies?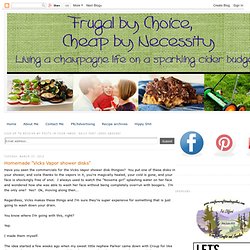 You put one of these disks in your shower, and voila thanks to the vapors in it, you're magically healed, your cold is gone, and your face is shockingly free of snot. I always used to watch the "Noxema girl" splashing water on her face and wondered how she was able to wash her face without being completely overrun with boogers. DIY Dog Shampoo, DIY Flea Treatment, DIY Skunk Odor Remover. Making your own dog shampoo isn't rocket science.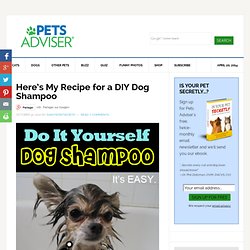 By: adria.richards/Flickr A wide variety of dog shampoos are available in stores, of course. How do you make lotion bars? None of your beeswax! While digging in my bathroom closet the other day, I came across a block of beeswax that I bought last holiday season for making chapstick (recipe coming at some point soon).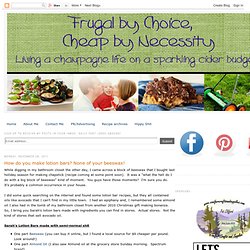 It was a "what the hell do I do with a big block of beeswax" kind of moment. You guys have those moments? I'm sure you do. It's probably a common occurrence in your house. Aromatherapy Recipes Using Essential Oils. The following links will lead you to these helpful articles located within AromaWeb's Article Archive Section: • Part 1: Introduction to Blending • Part 2: Aromatic Blending.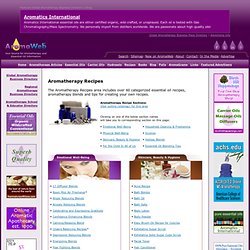 All Natural Lip Balm. The week leading up to the new year wasn't exactly how I had pictured it.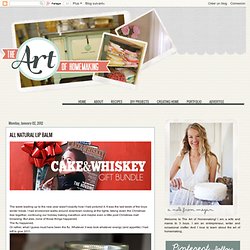 It was the last week of the boys winter break. I had envisioned walks around downtown looking at the lights, taking down the Christmas tree together, continuing our holiday baking marathon and maybe even a little post Christmas mall browsing. But alas, none of those things happened. The flu happened. Or rather, what I guess must have been the flu. Kitchen Witchery: Dandelion Salve  - To Be A Farmer - Little Seed Farm. Summer seems to have come quite early to Tennessee this year.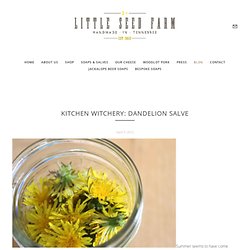 Everything has greened up and its been in the 80's here for the past few weeks! The sunshine has been lavish and the goats are loving the tender new leaves cropping up everywhere... The super warm weather has made us kick into high gear, trying to get the garden and everything else under the sun done before it's "too late" and we starve, or eat more WallMart produce (I think we'd starve).
This week, this has meant shoveling lots of gravel (fun!). At some point in time, someone here was much enamoured of gravel, as evidenced by its prolific abundance in every imaginable nook and cranny. Diffuse essential oils wherever you go with a Personal, Wearable, Aromatherapy Diffuser; A Terra Cotta Pendant. Breathe in a better mood… | prettymethis. ..and better skin!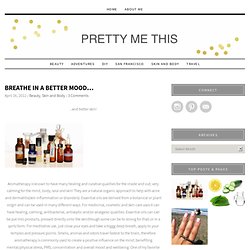 Aromatherapy is known to have many healing and curative qualities for the inside and out; very calming for the mind, body, soul and skin! They are a natural organic approach to help with acne and dermatitis(skin inflammation or disorders). Aromatherapy Glossary « BeautyBuzz HK | Beauty Buzz | Hong Kong's Beauty Bible. Aromatherapy is form of alternative medicine that uses concoctions of essential oils to treat various conditions.
By using specific essences, aromatherapy claims to alter your mood, and your mental and physical health. Although it is mostly used in massage oils, it is said to have endless medical properties to treat conditions that are usually combated by potentially harmful chemicals and medicines. KITCHEN BEAUTICIAN: HOMEMADE LIP STAIN. Photos + post by amy nadine, graphic design by eunice chun For those of you concerned about what chemicals we're putting in and on our bodies, you can't get more natural than this homemade berry lip stain!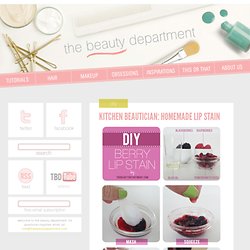 We love it because it adds the perfect "just-bitten" hint of color to fake that Snow White luscious lip!
Skin. Masks. First aid. Hair. Making a Mosquito Trap. To keep mosquitoes from ruining a picnic or camping trip, it is nice to have an enticing trap to lure them away from you. This guide is about making a mosquito trap. Solutions Read and rate the best solutions below by giving them a "thumbs up". Tip: Making a Mosquito Trap Because mosquitoes are attracted to the CO2 we breathe out, I started looking for ideas that used CO2 as the bait for the mosquito trap. Get Rid Of-Ants, Ants, Ants Recipe - Food.com - 203233. OMG!!! Thank you soooooo much for this remedy! My daughter moved into her 1st apartment,,,,with my twin grandsons,,,,,and realized that she was INFESTED with ants. She had them everywhere,,,,on the babies toys and all eeekkk. Medicinal Sweets or I Wish I Had a Sore Throat | Mad Mad me. Awhile back I shared a post about Candied Tangerines and how delicious they are in the bottom of a cup of tea.
But I wanted to make something a bit more medicinal that still had that 'yummy' quality to it. I've been fascinated by herbal anything my whole life. Imagine! The created things on this planet combat disease and infection, promote healing and life and can manage to do it in a gentle, easily accessible way. It's such a perfect system! Rosemary and Sage Boot Fresheners. With a tightly pinched nose, I've found myself once or twice carrying pairs of hot, sweaty boots out to the garage after a long summer hike. Desperate for an all natural odor-defying solution, I did my research. At first I considered making a foot powder, but hate the way it can gunk up your shoes and clump between toes. A spray just wouldn't cut it.
Then, I got crafty! Easy Aromatherapy Recipes. Fun, free essential oil recipes for body,home and health (and a really good time!) Contact me to learn how you can attend a free online video class. If you haven't tried making your own scented lotions and potions yet, you're in for a treat! You're about to find out that it's tremendously rewarding - and a lot easier than you might think - to make your own bath salts, body oils and skincare stuff (especially when you have a few easy aromatherapy recipes to follow!) ...
Balms salves and gels
Medicinal teas. Toners. Handmade Natural Bug Repellent Spray ~ A Recipe. Green Home Remedies. Top Anti Inflammatory Herbs. Safe, Effective Remedies 4 Inflammation Click4More. Annie's Remedy Medicinal Herbs and Healing Oils. Harvesting Mint for Herbal Infusions « Mind Body and Sole. ~The Woodwife's Journal~ Herbal Blogroll. Saponification Table and Characteristics of Oils in Soap. Sustainable Beauty: DIY Facial Soap. The Mountain Rose Blog.
---