Foto Editors
Fotobounce is a photo organizer using world-class face recognition smarts to tag, organize, and privately share your digital photos. Fotobounce face tagging Fotobounce does what you might have come to feel is the impossible. It's a software application that helps you share and enjoy photos online with family and friends – and NOT sacrifice your privacy. It's like that clubhouse you built with your friends when you were little where only a select few were invited to come in.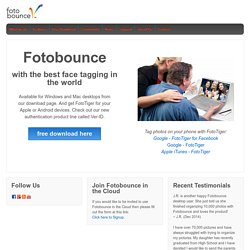 Get Started Now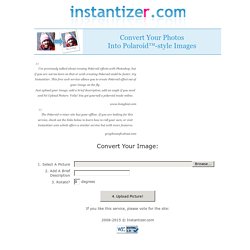 "I've previously talked about creatng Polaroid effects with Photoshop, but if you are not too keen on that or wish creating Polaroid could be faster, try Instantizer. This free web service allows you to create Polaroid effect out of your image on the fly. Just upload your image, add a brief description, add an angle if you need and hit Upload Picture. Voila! You got yourself a polaroid made online. www.hongkiat.com
Instantizer
Photo Collages, Funny Photo Effects and Gif Animations Start your photo fun on FunPhotoBox. Add photofunia to your photos using our photo collage maker. Choose from hundreds of photofunia photo effects and photo collages, facebook covers, animations, photo frames, cards, and photo filters. Make funny photo collages from your pictures. Create holiday cards and send them to your friends.