Foto Editors
Recent Fotobounce References I've worked with three different face recognition software packages, and Fotobounce is the best at face recognition and is the easiest to use. The remote viewer for iPhone is really fun! ~ BVB - Ossining NY (Apr 2014) I'm a new user and have about 9000 photos tagged now thanks to fotobounce.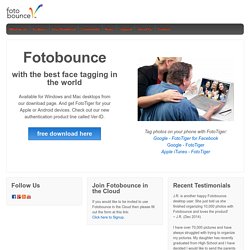 Get Started Now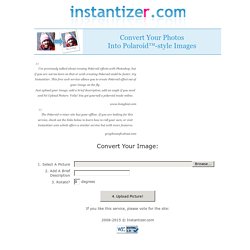 "I've previously talked about creatng Polaroid effects with Photoshop, but if you are not too keen on that or wish creating Polaroid could be faster, try Instantizer. This free web service allows you to create Polaroid effect out of your image on the fly. Just upload your image, add a brief description, add an angle if you need and hit Upload Picture. Voila! You got yourself a polaroid made online. www.hongkiat.com
Instantizer
Photo Collages, Funny Photo Effects and Gif Animations Start your photo fun on FunPhotoBox. Add photofunia to your photos using our photo collage maker. Choose from hundreds of photofunia photo effects and photo collages, facebook covers, animations, photo frames, cards, and photo filters. Make funny photo collages from your pictures. Create holiday cards and send them to your friends.