Jobs 2
Jobs. LinkedIn LIS Career Options Discussion List. This alphabetical list of all of the discussions on the LinkedIn LIS Career Options Group will be updated at least once a week, and my goal is to eventually annotate each discussion entry – but for now, this will at least provide top-level access to the nearly 575 discussions in the group.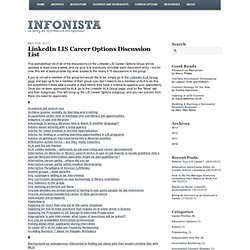 If you're not yet a member of the group but would like to be, simply go to the LinkedIn ALA Group page and sign up to be a member of their group (you don't need to be a member of ALA to do this, but sometimes it does take a couple of days before they have a chance to approve your application). Once you've been approved by ALA, go to the LinkedIn ALA Group page, click on the "More" tab, and then Subgroups. This will bring up the LIS Career Options subgroup, and you can just join from there (no need for approvals). Revitalize your resume by using better words.
Written by Beth Braccio Hering Special to CareerBuilder Filed Under "Generic hyperbole belongs on cereal boxes, not on resumes," says Duncan Mathison, a career consultant and co-author of "Unlock the Hidden Job Market: 6 Steps to a Successful Job Search When Times Are Tough.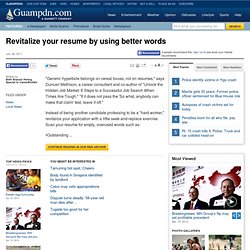 " "If it does not pass the 'So what, anybody can make that claim' test, leave it off. " 17 Tips to Ace Your Next Phone Interview. It's easy to understate the importance of a phone interview, dismissing it as merely the first step in the long job-search process.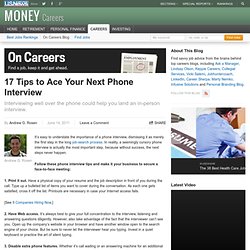 In reality, a seemingly cursory phone interview is actually the most important step, because without success, the next steps never happen. Follow these phone interview tips and make it your business to secure a face-to-face meeting: 1. Print it out. Have a physical copy of your resume and the job description in front of you during the call. Five Common Reasons Resumes Get Discarded. Who can forget Elle Woods, cheerfully handing her resume to her law professor's assistant.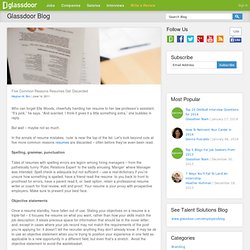 "It's pink," he says. "And scented. I think it gives it a little something extra," she bubbles in reply. But wait – maybe not so much. Best Job Search Site? Why Youre Not Getting Hired. If you're trying hard to land an interview and nothing seems to work, you likely have a lot of ideas about why no one is giving you a chance.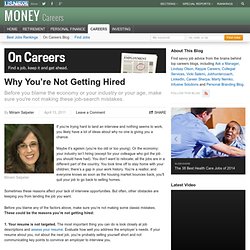 Maybe it's ageism (you're too old or too young). Or the economy; your industry isn't hiring (except for your colleague who got the job you should have had). Jobs. An inside look at jobs & companies. Library_grrls: Jobs related to Library Science. Hi everyone, Let's make a list of companies to work for, that can be translated into various areas of library science.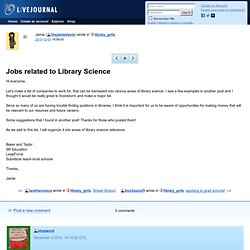 I saw a few examples in another post and I thought it would be really great to brainstorm and make a major list. Since so many of us are having trouble finding positions in libraries, I think it is important for us to be aware of opportunities for making money that will be relevant to our resumes and future careers. Some suggestions that I found in another post! Thanks for those who posted them! USAJOBS - Federal Jobs by College Major. Education Jobs in the Federal Government. Job Profiles Here are examples of recent job openings.
Explore more and apply now at USAJOBS . Foreign Language Teachers at the Department of Defense. Placements & Salaries Survey 2010: Explore the Data. Sorry, but the article or page you're looking was not found. In May 2013, Library Journal underwent a major server migration for its archived web content, which happened slightly sooner than originally expected. As a result, much of the content from 2004 to 2012 is currently unavailable to the public. However, this content has not been lost, and our web staff is in the process of converting these past articles for integration into the WordPress-based website you see here, which was launched in 2012. Many of these older articles have already been restored, and more will continue to be restored on an ongoing basis as they are cleaned up. Ultimately, this migration will allow for greater discoverability of all archived LJ content, both on the website and across the Web in general.
Silicon Valley | Jobline. Taylor & Associates. COUNCIL ON LIBRARY/MEDIA TECHNICIANS (COLT) JOBLINE. Hawaii Library Association. Resources Barbara Tillett Presentations: Keeping Libraries Relevant in the Semantic Web: RDA, VIAF, and the new Bibliographic Framework RDA and the Linked Data Environment Webliography: Resources for and about RDA and its foundations, etc.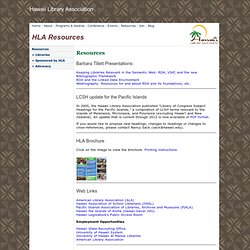 LCSH update for the Pacific Islands. Employment - Fort Vancouver Regional Library District. California Library Association: Current Job Listings | Bay Area Library & Information Network. Job Announcements - AkLA - Alaska Library Association. Job Search: AIM Library & Information Staffing. Jobline for Librarians - Texas State Library. TLA Jobline/Job List. Looking for a Library Job? Library Positions at the New Mexico State Library For directions on how to apply, see the New Mexico State Personnel Office.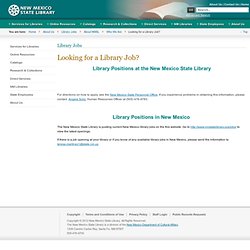 If you experience problems in obtaining this information, please contact Angela SolizThis email address is being protected from spambots. You need JavaScript enabled to view it. , Human Resources Officer at (505) 476-9783. Library Positions in New Mexico The New Mexico State Library is posting current New Mexico library jobs on the this website. Human Resources. Employment. Home / Employment The Las Vegas-Clark County Library District only accepts applications for positions that are currently posted. Applicants must complete a separate application for each position desired.
Las Vegas-Clark County Library District offers great benefits for full time employees. Library Jobs in the Pacific NW. Douglas County Libraries: Job Listings: Open Positions @DCL. Sponsored by the Colorado State Library. Arizona State Library, Archives and Public Records - Jobs. Current WV Job Announcements. New applicants should review the Instructions Document and the FAQ (Frequently Asked Questions). How to Apply: Scroll down to review open jobs. Click a job title to read the description.
Carefully read the job requirements and any instructions. If you qualify and wish to submit an application, click the "Apply" link.If you do not have a GovernmentJobs.com account, click "Create Your Account Here".You can create an account and application profile without selecting a job, but your account application will not be visible to us until you Apply for a job title and Submit the application. Staffing - Employment - Jobs - State Gov't Jobs. Employment - Job Seeker. Ohio Library Council-->Resources-->Jobline.
Northeast Ohio Regional Library System :: NEO-RLS. Jobline & Careers | Welcome to the Michigan Library Association. Metronet Jobline. Note: The Minnesota Libraries Jobline is a place to post jobs for librarians, information specialists and school media specialists in Minnesota and nearby states (and occasionally beyond).
It is not a general jobs database. Posting is free of charge. Jobs are typically added Monday through Thursday and will be listed according to when they were posted on this list - in descending order by date. The most recently added jobs are listed first. Jobline of Illinois - ila.org. South Holland Public Library is seeking an experienced, dynamic, tech-savvy full- time professional librarian to run a team environment where consultation, flexibility, creativity, innovation, collaboration and cooperation are essential. Responsibilities include supervising a staff of three full-time librarians and several part-time or on-call librarians and information services associates.
Work includes strategic planning, budget administration, hiring, supervision, scheduling, collection development, and work at the Public Services desk (ASK Questions desk) where excellent patron service skills are required. This position is charged with developing, implementing and promoting a wide range of services and programs designed specifically for adult and young adult patrons. Experience with computers and instructional technology is a plus. Corbus Library Consultants - Postings. MLS Jobs. C. Berger Group, Inc.
Gossage Sager Associates.
---