Jobs 2
Jobs
This alphabetical list of all of the discussions on the LinkedIn LIS Career Options Group will be updated at least once a week, and my goal is to eventually annotate each discussion entry – but for now, this will at least provide top-level access to the nearly 575 discussions in the group. If you're not yet a member of the group but would like to be, simply go to the LinkedIn ALA Group page and sign up to be a member of their group (you don't need to be a member of ALA to do this, but sometimes it does take a couple of days before they have a chance to approve your application).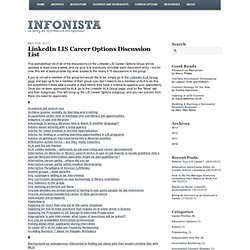 LinkedIn LIS Career Options Discussion List
Revitalize your resume by using better words | Pacific Daily News | guampdn.com
17 Tips to Ace Your Next Phone Interview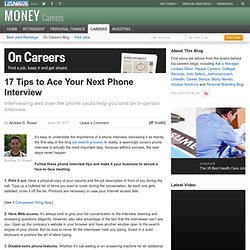 It's easy to understate the importance of a phone interview, dismissing it as merely the first step in the long job-search process. In reality, a seemingly cursory phone interview is actually the most important step, because without success, the next steps never happen.
Five Common Reasons Resumes Get Discarded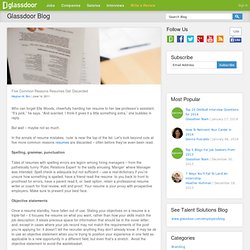 Who can forget Elle Woods, cheerfully handing her resume to her law professor's assistant.
Best Job Search Site?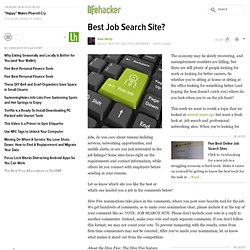 The economy may be slowly recovering, and unemployment numbers are falling, but there are still plenty of people looking for work or looking for better careers. So whether you're sitting at home or sitting at the office looking for something better (and hoping the boss doesn't catch you) where do you look when you're on the job hunt?
If you're trying hard to land an interview and nothing seems to work, you likely have a lot of ideas about why no one is giving you a chance. Maybe it's ageism (you're too old or too young). Or the economy; your industry isn't hiring (except for your colleague who got the job you should have had).
Why Youre Not Getting Hired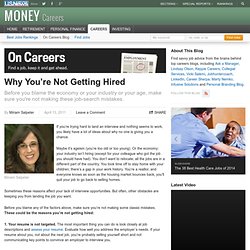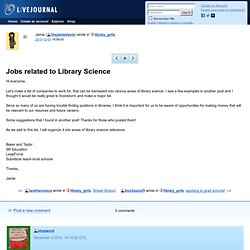 Hi everyone, Let's make a list of companies to work for, that can be translated into various areas of library science.
library_grrls: Jobs related to Library Science
USAJOBS - Federal Jobs by College Major
Education Jobs in the Federal Government
Job Profiles
Sorry, but the article or page you're looking was not found. In May 2013, Library Journal underwent a major server migration for its archived web content, which happened slightly sooner than originally expected. As a result, much of the content from 2004 to 2012 is currently unavailable to the public. However, this content has not been lost, and our web staff is in the process of converting these past articles for integration into the WordPress-based website you see here, which was launched in 2012. Many of these older articles have already been restored, and more will continue to be restored on an ongoing basis as they are cleaned up. Ultimately, this migration will allow for greater discoverability of all archived LJ content, both on the website and across the Web in general. Silicon Valley | Jobline
Taylor & Associates
COUNCIL ON LIBRARY/MEDIA TECHNICIANS (COLT) JOBLINE
Resources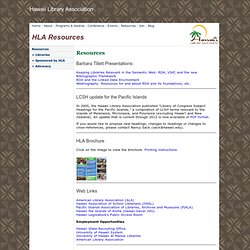 Hawaii Library Association
Employment - Fort Vancouver Regional Library District
California Library Association:
Current Job Listings | Bay Area Library & Information Network
Job Announcements - AkLA - Alaska Library Association
Job Search: AIM Library & Information Staffing
Jobline for Librarians - Texas State Library
TLA Jobline/Job List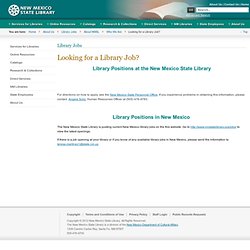 Library Positions at the New Mexico State Library For directions on how to apply, see the New Mexico State Personnel Office.
Looking for a Library Job?
Human Resources
Employment
Home / Employment
Library Jobs in the Pacific NW
Douglas County Libraries: Job Listings: Open Positions @DCL
sponsored by the Colorado State Library
Arizona State Library, Archives and Public Records - Jobs
Applicant Login Account Login Problems Instructions Job Interest Card FAQ Written Test Schedules
Current WV Job Announcements
>>> Oil and Gas Inspectors Needed.
Staffing - Employment - Jobs - State Gov't Jobs
Employment - Job Seeker
Ohio Library Council-->Resources-->Jobline
Northeast Ohio Regional Library System :: NEO-RLS
Jobline & Careers | Welcome to the Michigan Library Association
Note: The Minnesota Libraries Jobline is a place to post jobs for librarians, information specialists and school media specialists in Minnesota and nearby states (and occasionally beyond).
Metronet Jobline
Director Peoria Heights Public Library posted Wednesday, January 8, 2014
Jobline of Illinois - ila.org
Corbus Library Consultants - Postings
MLS Jobs
C. Berger Group, Inc.
Gossage Sager Associates