Blog
How To Get Paid Sponsorship For Your Blog. Sponsorship is very different to affiliate adverts: Sponsors will pay bloggers simply to have their message on your blog, whereas affiliates will only pay for clicks or purchases.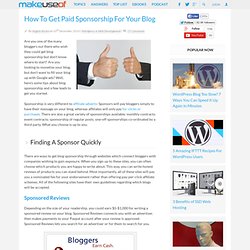 There are also a great variety of sponsorships available: monthly contracts; event contracts; sponsorship of regular posts; one-off sponsorships co-ordinated by a third party. What you choose is up to you. Finding A Sponsor Quickly. 7 Free Useful eBooks That Every Blogger Should Read. I have never been one to read books or PDFs on my computer screen.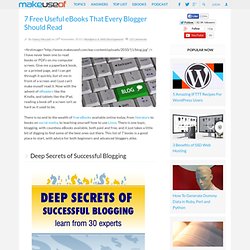 Give me a paperback book, or a printed page, and I can get through it quickly, but sit me in front of a screen and I just can't make myself read it. Now with the advent of eReaders like the Kindle, and tablets like the iPad, reading a book off a screen isn't as hard as it used to be. There is no end to the wealth of free eBooks available online today, from literature to books on social media, to teaching yourself how to use Linux. There is one topic, blogging, with countless eBooks available, both paid and free, and it just takes a little bit of digging to find some of the best ones out there. Cool Site of the Day | Cool Websites | Website Marketing | SEO Search Engine Optimization.
---