Associations
American Association of School Librarians (AASL) Special Libraries Association. Selected Positions of Information Professionals | School of Information Sciences. The top careers and job opportunities of the next 10-25 years will be information intensive and require the ability to acquire and apply information and knowledge.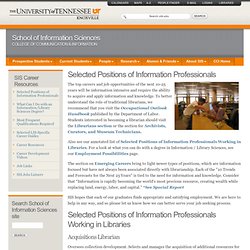 To better understand the role of traditional librarians, we recommend that you visit the Occupational Outlook Handbook published by the Department of Labor. Students interested in becoming a librarian should visit the Librarians section or the section for Archivists, Curators, and Museum Technicians. Mailing List Service. Strategic and Competitive Intelligence Professionals-SCIP.
ACRL | Association of College and Research Libraries. Welcome to the New AcqWeb! | AcqWeb. ALCTS Home Page. GODORT Homepage.
---