Associations
Alphabetical Accredited List
If you arrived here as a result of a renewal or other purchase transaction that went wrong, try this: close your browser, launch it or another browser, and try again.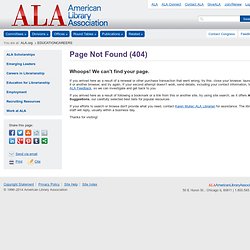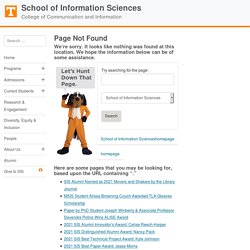 Selected Positions of Information Professionals | School of Information Sciences
The top careers and job opportunities of the next 10-25 years will be information intensive and require the ability to acquire and apply information and knowledge. To better understand the role of traditional librarians, we recommend that you visit the Occupational Outlook Handbook published by the Department of Labor. Students interested in becoming a librarian should visit the Librarians section or the section for Archivists, Curators, and Museum Technicians.
Mailing List Service
ACRL | Association of College and Research Libraries
Welcome to the New AcqWeb! | AcqWeb
ALCTS Home Page
GODORT Homepage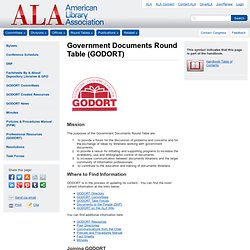 (1) To provide a forum for discussion of problems, concerns, and for exchange of ideas by librarians working with government documents; (2) to provide a force for initiating and supporting programs to increase availability, use, and bibliographic control of documents; (3) to increase communication between documents librarians and other librarians; (4) to contribute to the extension and improvement of education and training of documents librarians.