Recipes for Homemade Beauty Products
I look for homemade skin care recipes for natural skin care using all natural ingredients. Everyone will experience different results.
Homemade skin care recipes home page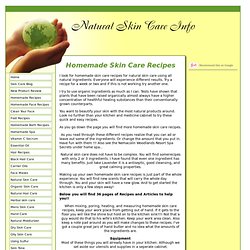 All-Natural Moisturizing Kitchen Hand Scrub Frugal Recipes , Kitchen Gifts , Kitchen Tips & Tricks | 87 comments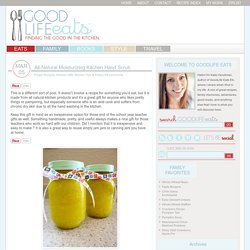 All-Natural Moisturizing Kitchen Hand Scrub
Beauty Recipes at MakeYourCosmetics.com
Soap making, spa, skin care, massage, aromatherapy and cosmeceutical ingredient supplier - From Nature With Love
Recipes: Scrubs
Image courtesy of Stacy Spensley via Flickr
The Natural Beauty Workshop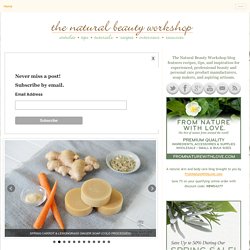 Make Body Scrubs At Home - Bath & Body Recipes, Bath Bombs, Soap Making, Bath Salts Recipes
" The Handcrafter's Companion is your comprehensive, step-by-step guide to creating your own spa-quality products, for fun and profit !" From pampering bath treatments and body scrubs, to rich, soothing creams and butters and aromatic home fragrance products -- The Handcrafter's Companion is a priceless reference collection of product recipes designed to create a relaxing spa atmosphere in your own home.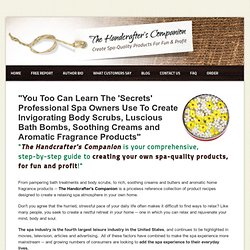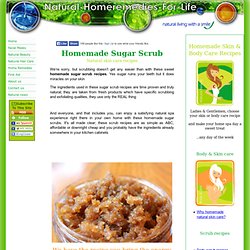 Homemade Sugar Scrub recipes; the sweetest body scrubs
We're sorry, but scrubbing doesn't get any easier than with these sweet homemade sugar scrub recipes .
Homemade Beauty Recipes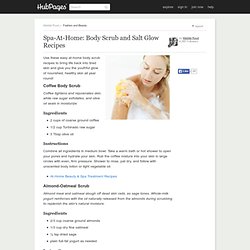 Spa-At-Home: Body Scrub and Salt Glow Recipes
Lemon Salt Glow Sea salts bring a healthy glow to dull, dry skin,.which may then benefit as much from the antioxidant properties of lemon as the rich nutrition of almond oil. Ingredients
Bath and Body Crafts - Free projects and DIY gift ideas from Craftbits.com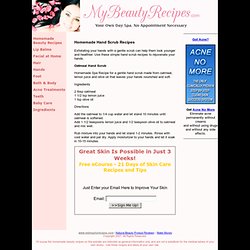 Homemade Hand Scrub Recipes Exfoliating your hands with a gentle scrub can help them look younger and healthier.
Hand Scrub.Natural Homemade Beauty Recipes
Nothing's more fun than sharing and swapping a good recipe.
Natural Nail Care Recipes: Hand scrubs, homemade foot scrubs, natural hand and foot care scrubs you can make at home: Salt scrub, brown sugar scrubs
Peppermint Foot Scrub Recipe Ingredients: