Apprendre le japonais/Learn Japanese
Lire selon son niveau/ Reading training. Hen learning Japanese, reading often makes up the bulk of it.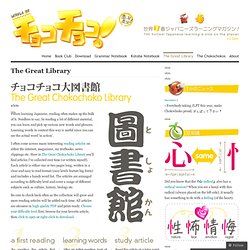 Needless to say, by reading a lot of different material, you can learn and pick up various new words and phrases. Learning words in context this way is useful since you can see the actual word 'in action'. I often come across many interesting reading articles on either the internet, magazines, my textbooks, news clippings etc. Here in The Great Chokochoko Library you'll find articles I've collected over time (or written myself). Tagaini Jisho - Flashcards et dictionnaire. Apprendre les Kanji (Méthode Heisig/Maniette) JapanesePod101.com. Rhinospike - listen and record other languages/Ecouter et enregistrer d'autres langues.
Drama et film en ligne. Japanese Drama | 11 Episodes | Cast: Muroi Shigeru, Kaito Ken, Namase Katsuhisa, Onodera Akira , Shida Mirai, Sorimachi Takashi, Yamaguchi Sayaka, Takahata Atsuko, Tanaka Misako, Tanimura Mitsuki, Haru, Kaneko Sayaka, Kitamura Kazuki, Kitano Kii, Toda Naho, Koike Rina , Koshimizu Kazuki, Koumoto Junichi , Miura Haruma Miki Ichinose (Mirai Shida) is the girl next door.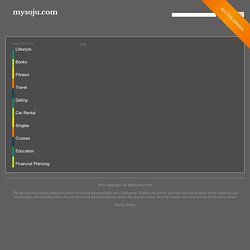 She is an average junior high school second grader,who likes spending time with her friends and prefers extra curricular activities to studying. Podcast -Voice Blog Portal. TV Asahi. Yomiuri online(読売新聞) Fnn-news.com. TBS - NewsI. Méthode de japonais pour gaijins (Blog) Leçons et quizz - Japan Activator.
Grammaire japonaise par Tae Kim. Ici-japon.com : cours de japonais. Apprendre le japonais et préparer le JLPT. Japanese Lessons with Maggie (Blog) Genki Online:Self-study Room. GENKI is a highly acclaimed series of integrated resources for learning elementary Japanese through a well-balanced approach to all four language skill areas—speaking, listening, reading, and writing.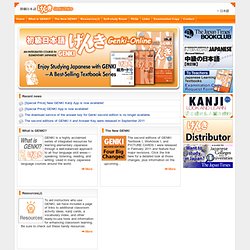 Used in many Japanese language courses around the world. More The second editions of GENKI Textbook I, Workbook I, and PICTURE CARDS I were released in February 2011 and feature four major revisions. Lessons at The Japanese Page. JLPT Level Check - Test your Japanese vocabulary, kanji and gram. Japanese studying made for you! Isshoni.org - Exercices (JLPT) Pixiv - Communauté d'artistes.
Forum Tevader.com.
---
chaussette Mar 5 2012

Perfect!
Je suis vraiment contente de tomber sur ce Pearlt
---