Apprendre le japonais/Learn Japanese
Lire selon son niveau/ Reading training
hen learning Japanese, reading often makes up the bulk of it. Needless to say, by reading a lot of different material, you can learn and pick up various new words and phrases. Learning words in context this way is useful since you can see the actual word 'in action'. I often come across many interesting reading articles on either the internet, magazines, my textbooks, news clippings etc. Here in The Great Chokochoko Library you'll find articles I've collected over time (or written myself).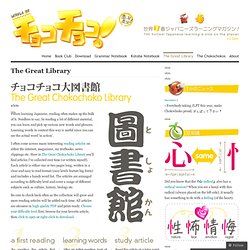 At long last, I'm glad to announce that Tagaini has reached the 1.0.0 milestone! This release is more symbolic than practical, even though it does bring a reasonable amount of bug fixes, new translations and updated Japanese data. Why symbolic? Well, Tagaini has been in development since a while now, and the computing landscape has greatly changed since its inception. Initially, the choice has been to build Tagaini around Qt and SQLite to ensure portability across the main desktops. In that respect, this has been a great choice.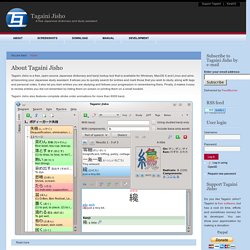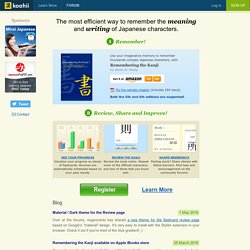 New in the Study pages: Example Words!8 April 2014 You can now see a selection of "priority" entries from JMdict (Japanese-Multilingual Dictionary) on any given character's Study page. You can also use the shortcut key D to view a selection of sample words during flashcard reviews (note these aren't optimized for mobile display, yet). I remember when I was going through RTK, I spent a lot of time looking up the characters in the Kanji Learner's Dictionary (KKLD). Having example words helps a lot to understand why Heisig chose certain english keywords, and it helps you make better mnemonics that more accurately capture the particular meaning, or common use of the character.
Rhinospike - listen and record other languages/Ecouter et enregistrer d'autres langues
Japanese Drama | 11 Episodes | Cast: Muroi Shigeru, Kaito Ken, Namase Katsuhisa, Onodera Akira , Shida Mirai, Sorimachi Takashi, Yamaguchi Sayaka, Takahata Atsuko, Tanaka Misako, Tanimura Mitsuki, Haru, Kaneko Sayaka, Kitamura Kazuki, Kitano Kii, Toda Naho, Koike Rina , Koshimizu Kazuki, Koumoto Junichi , Miura Haruma Miki Ichinose (Mirai Shida) is the girl next door. She is an average junior high school second grader,who likes spending time with her friends and prefers extra curricular activities to studying.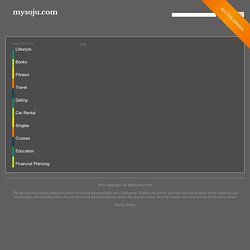 Podcast -Voice Blog Portal
Yomiuri online(読売新聞)
fnn-news.com
TBSの動画ニュースサイト News i ニュースカテゴリメニューへジャンプ ナビゲーションへジャンプ 本文へジャンプ 最新ニュース <div class="noscript">Javascriptが無効のため、いくつかの機能はOFFになっています。<a href="http://www.tbs.co.jp/sitepolicy/">&nbsp;サイトポリシーへ</a></div>
TBS - NewsI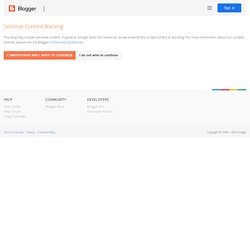 Méthode de japonais pour gaijins (Blog)
Ouais, je sais, on dirait un titre d'Amélie Nothomb. Je te parle de génétique au sens de construction agrégée déterminante, cette façon de mettre ensemble des éléments constitutifs de la langue qui vont donner un japonais propre à ta personnalité, parce que tu utilises des expressions qui te paraissent naturelles, alors qu'elles ne le sont pas pour d'autres. Expressions que tu as acquises au cours de ton apprentissage et qui, pour la plupart, ont une valeur particulière à tes yeux.
Leçons et quizz - Japan Activator
Si vous suivez l'Instagram d'Ici Japon vous avez remarqué que la moitié des photos étaient des photos de nourriture. J'aime manger et j'aime manger au Japon. Le Japon c'est LE pays des bons plats avec la France. On a la diversité, la présentation, la qualité et le goût. Dans une ville comme Tokyo, ville où il y a le plus de restaurants au monde, la concurrence est rude et par conséquent on est quasiment sûr de bien manger partout où l'on va. Un restaurant qui vend de la merde ne restera pas ouvert longtemps.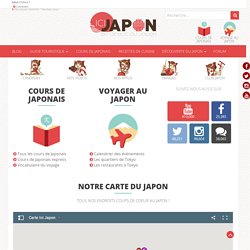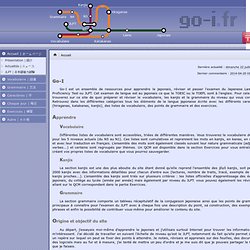 Dernière actualité : dimanche 22 juillet 2012 Dernier commentaire : 2014-04-20 01:48:38 Go-I est un ensemble de ressources pour apprendre le japonais, réviser et passer l'examen du Japanese Language Proficiency Test ou JLPT. Cet examen de langue est au japonais ce que le TOEIC ou le TOEFL sont à l'anglais. Pour cela, vous trouverez sur ce site de quoi préparer et réviser le vocabulaire, les kanjis et la grammaire du niveau qui vous convient. Retrouvez dans les différentes catégories tous les éléments de la langue japonaise écrite avec les différents caractères (hiraganas, katakanas, kanjis), des listes de vocabulaire, des points de grammaire et des exercices.
Apprendre le japonais et préparer le JLPT
Japanese Lessons with Maggie (Blog)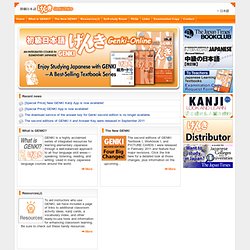 Genki Online:Self-study Room
GENKI is a highly acclaimed series of integrated resources for learning elementary Japanese through a well-balanced approach to all four language skill areas—speaking, listening, reading, and writing. Used in many Japanese language courses around the world. More The second editions of GENKI Textbook I, Workbook I, and PICTURE CARDS I were released in February 2011 and feature four major revisions.
Lessons at The Japanese Page
Japanese studying made for you!
Isshoni.org - Exercices (JLPT)
Forum Tevader.com