DECOR
Get the Look Decor: Moment of Zen :: Etsy Blog
FUCK YEAH BEDROOMS!
ANTIQUE SHEET MUSIC - ABSENT - JOHN METCALF - CR 1899 on eBay!
Maximize Small Spaces: 8 Revamps for Your Closet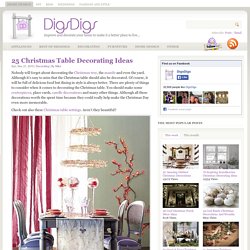 25 Christmas Table Decorating Ideas
Nobody will forget about decorating the Christmas tree , the mantle and even the yard. Although it's easy to miss that the Christmas table should also be decorated. Of course, it will be full of delicious food but dining in style is always better. There are plenty of things to consider when it comes to decorating the Christmas table. You should make some centerpieces , place cards, candle decorations and many other things.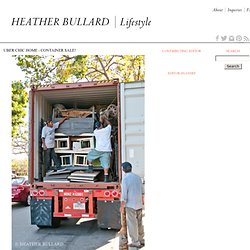 Oooh, this is the part where I get to tell you about the amazing antique shop we stumbled upon! I had not heard nor read about it anywhere in my research, online or otherwise. So finding it was completely serendipitous. It's like this shop was meant for me to find! Welcome to l'Objet qui Parle ... The shop was so well curated and you could easily see it was the singular vision of the owner.
Heather Bullard: Collecting
Home » $5 and Under , cheap crafts , Decor , Headline , High Concept , Kids , Weddings 10 July 2009 36,533 views 8 Comments by heather
Make Folding Paper Lanterns | Dollar Store Crafts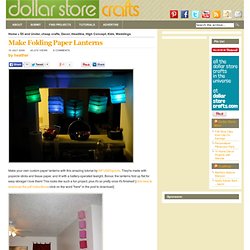 Home » $10 and Beyond , Decor , Headline , High Concept 17 August 2009 53,020 views 27 Comments by heather I'm a fan of retro-styled starburst mirrors, and I just knew I could make one on a dollar store budget!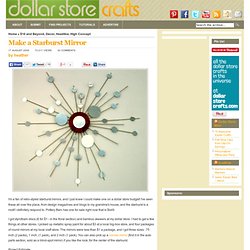 Make a Starburst Mirror | Dollar Store Crafts
Look! Pendant Lamp Makeover For Under $12 | Apartment Therapy Chicago
AT reader, Ashley from Philly, was madly in love with the Haldane Martin's ostrich chandelier , but the thoughts of owning it were a little out of reach. Taking matters into her own hands she transformed a basic IKEA paper pendant light, into quite the masterpiece for under $12 (and that includes the price of the lamp itself)! Click through to see how you can recreate the look yourself ! Wanna get the same look for your home? Ashley let us in on a few of her secrets .... "After some experimentation I found that the best way to attach the petals was with 'shiny' scotch tape (the type that looks like packing tape) rather than the matte scotch 'magic' tape (which gave obvious seams/shadows that looked less than stellar).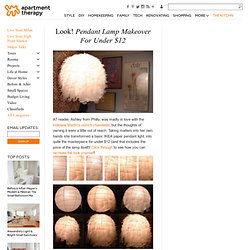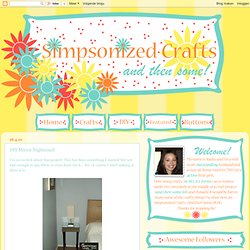 DIY Mirror Nightstand
I'm so excited about this project! This has been something I wanted but not bad enough to pay $600 or even $100 for it... SO, of course I tried making it. Here it is: I paid a total of $20 to make this table!
baskets2
Home » Headline , Roundup-Ideas 4 April 2010 5,891 views 2 Comments by heather Welcome to the weekend roundup of Stashbusting goodness! This week, we're kicking off a month-long pledge to bust our stashes and avoid buying new supplies.
Weekend Stashbusting Roundup | Dollar Store Crafts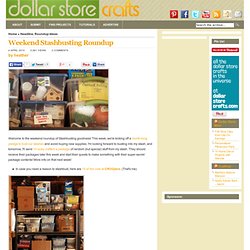 We really needed a new lamp, and we´ve planned to make one for months. This week we finally got around to it. It takes a bit of different materials, but it´s really easy when you´ve started. We recommend making it outdoors, as it gets quite messy. The result is pretty neat, especially at night when the threads cast shadow on the walls.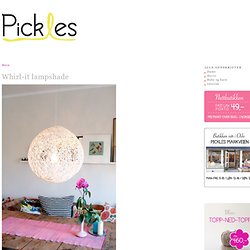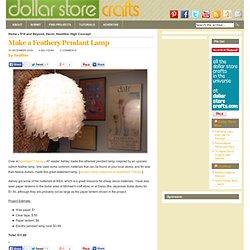 Home » $10 and Beyond , Decor , Headline , High Concept 30 December 2009 9,283 views 5 Comments by heather Over at Apartment Therapy , AT reader Ashley made this ethereal pendant lamp, inspired by an upscale ostrich feather lamp. She used some common materials that can be found at your local stores, and for less than twelve dollars, made this great statement lamp. [ pendant lamp makeover at Apartment Therapy ]
Make a Feathery Pendant Lamp | Dollar Store Crafts
Make a Pebble Mat | Dollar Store Crafts
Home » Headline , High Concept 2 July 2010 205,625 views 28 Comments by heather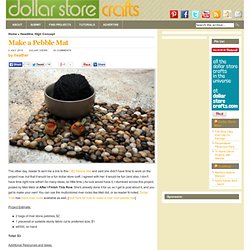 SALE PDF Paper Clip Chandelier Frame by ReDesignTechnologies
Home » $5 and Under , Decor , From Our Readers , Headline , Holiday Crafts 6 October 2010 3,614 views 4 Comments by rhonda A few weeks ago my local Dollar Tree put out a bunch of last year's leftover Christmas merchandise marked at half off. Included in the offerings were a bunch of ornament display hangers. I thought about grabbing one but had no idea what I would do with it; now I wish I had gone with my gut and gotten one!
Make a Spooky Photo Display | Dollar Store Crafts
Make a Woven Wooden Lamp | Dollar Store Crafts
Home » $10 and Beyond , Decor , Headline 13 July 2010 26,761 views 3 Comments by heather Make a sculptural hanging lamp with this simple supply found at the home improvement store. Arounna of Bookhou created this lamp for poppytalk using an Ikea pendant light and some wood veneer strips. Although it's not strictly from dollar store supplies, I thought you would be interested in this idea!
small space d.i.y. make your own chandelier with leftover fabric
I have always loved fabric - the different colors, patterns and textures are endless. I am all for using your favorite fabric in your own small space to personalize your vibe - it's all about making a house a home - yes! When I spotted this sweet shade idea, I wanted to share with you because it looks great and is super easy.
How To: Make a Captain's Bed on the Cheap | Apartment Therapy San Francisco
This is a small space DIY that's clever, easy, and cheap. AT:SF reader Killorn wrote to us and told us how she turned an IKEA LACK shelf into under-bed storage. Before
Make a Beaded Chandelier | Dollar Store Crafts
I made a beaded chandelier from dollar store stuff, and I'm so happy I get to reveal it today. I've been teasing the Dollar Store Crafts Facebook page with this project for a few days now, and I finally get to share it! A few months ago, Dollar Tree started selling their seasonal gardening stuff, including hanging wire baskets (and yes, they were only a dollar!) For months I had been trying to find a good base for a chandelier at the dollar store, and it wasn't until my three year-old son called the wire baskets a "chandelier" that it clicked. Well, two months later, the beaded chandelier is here. It really only took about three or so hours to make, but I kept running into problems (ran out of beads, twice.
Life-Size DIY Tree Trunk Wall Art » Curbly | DIY Design Community « Keywords: recyled, recyling, cardboard, wall
kate-spade-london-pop-up-2
sleepover+via+pink+wallpaper
absolutely beautiful things
ben%2526phoebe6
chandelier
Full House
Screenshot2010-10-17at75135PM-1.png picture by waylonbrian - Photobucket
Screenshot2010-10-17at75227PM.png picture by waylonbrian - Photobucket
Screenshot2010-10-17at75104PM-1.png picture by waylonbrian - Photobucket
LE11BrightBazaar-1.png picture by madamepumphrey - Photobucket
Screenshot2010-11-04at85630AM-1.png picture by madamepumphrey - Photobucket
1278440523
Creative Kids' Rooms - Do It Yourself
Magazine Bowls
That stuff doesn't look good there. Perhaps you should put i...
Toutes les tailles | easier said | Flickr : partage de photos !
Search - girl's rooms
img-thing (JPEG Image, 300x300 pixels)
amazing rooms
Blue, Green, White and Silver Christmas Decorating Ideas
(3.)scribbles & splendor
Flowers
Animal Attraction Pillows: Kiddie Decor Adults will Love
seniors club christmas crafts
Glamour Bedroom Design – Pop by Altamoda
Charming and Opulent Pink Girls Room – Altamoda Girl
Decoration | Www.Interi0rDesign.Com
Princess Bed Headboard
The Land Of Nod | Lickety Split Furniture Shipping
Cool Bedroom Designs Ideas for Childrens by DearKids | Interior Design | Interior Decorating Ideas | Interior Design Photos
Rockin' Teen Girls Rooms
girls rooms