Social Media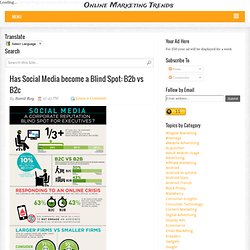 According to the Zeno Group's Digital Readiness Survey, compiled in Dec. 2012, more than one-third of executives surveyed said the CEO of their company does not care or cares little about the company's reputation on social media.
Has Social Media become a Blind Spot: B2b vs B2c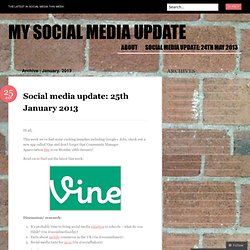 2013 January « My Social Media Update
Social media update: 25th January 2013 25 Jan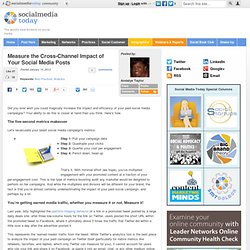 Measure the Cross-Channel Impact of Your Social Media Posts
Did you ever wish you could magically increase the impact and efficiency of your paid social media campaigns? Your ability to do this is closer at hand than you think.
Being Bold on Social Media is About Risk Versus Reward
There is plenty of vanilla out there.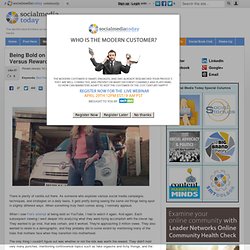 Imagine a small-town pharmacist standing at a back counter, counting pills.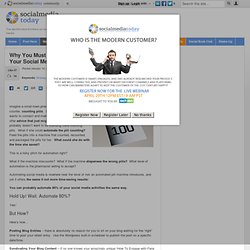 Why You Must Automate 80 Percent of Your Social Media Activity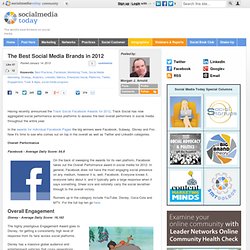 The Best Social Media Brands in 2012
Having recently announced the Track Social Facebook Awards for 2012, Track Social has now aggregated social performance across platforms to assess the best overall performers in social media throughout the entire year. In the awards for individual Facebook Pages the big winners were Facebook, Subway, Disney and Fox. Now it's time to see who comes out on top in the overall as well as Twitter and LinkedIn categories.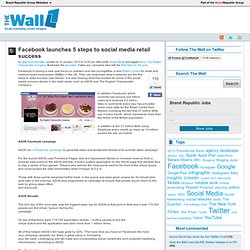 Facebook is having a new year focus on retailers and has put together a new Retail Centre for small and medium-sized businesses (SMBs) in the UK.
Facebook launches 5 steps to social media retail success
Six simple social media tips to get you noticed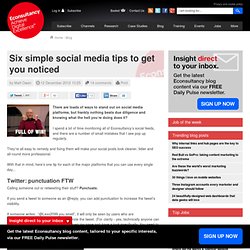 There are loads of ways to stand out on social media platforms, but frankly nothing beats due diligence and knowing what the hell you're doing does it?
The Impact of Social Media on Broadcast Media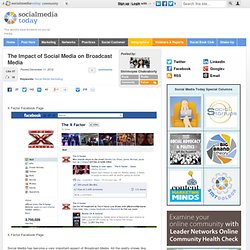 X Factor Facebook Page
Key takeaways from Social Media World Forum #SMWF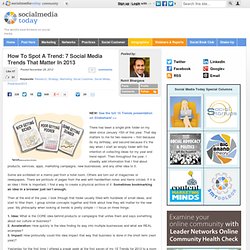 NEW: See the full 15 Trends presentation on Slideshare! >> There has been a single pink folder on my desk since January 15th of this year.
How To Spot A Trend: 7 Social Media Trends That Matter In 2013
What Is A Social Media Strategy?
Over the last few weeks I've been working with clients on setting up a social media strategy for their business and it's become very apparent that they have very little idea of what a social media strategy is. So before I tell you exactly what a social media strategy is let me tell you what it definitely is not: A social media strategy is not setting up a Facebook account, spamming your friends about it and then posting content any time you are available.A social media strategy is not setting up a like gate and then forcing people to like you in return for some cheap bribeA social media strategy is not consistently posting images and articles to your wall which sell your products to your fans
Tips on Social Media for Small Business: #3 Organisation of Your Social Media Channels
All business, whatever its size, needs to be active in social media.
Superstorm Sandy and President Obama's re-election are two of the biggest stories to have dominated social media in the past few weeks.
The Whirlwind of Social Media - Social actively changing the way news stories unfold?
The airline's @British_Airways account has 211,609 followers. On Saturday it re-tweeted a message that used the racist term "g***" and the phrase "f**k off back to where you came from," according to reports. Consumers re-tweeted the message and British Airways deleted it quickly.
British Airways apologises for offensive tweet
Women's Embrace of Social Media Grows
By Mark Evans - Monday, November 19th, 2012 at 7:30 am ShareThis
20 Questions – Why Your Social Media Isn't Working
The 3 Best Social Media Tactics to Get More Customers
What to Look for in a Social Media Monitoring Tool
How to conduct a social media audit
misspunjabhi : Listening to your target audience
What Are the Hottest Soft Drink Brands in Social Media? [CHART]
Five ways to avoid social media fragmention
22/09
Deepak Chopra: Spirituality in The Age of Social Media
15/09
The Best Times To Post To Facebook, Twitter, Google+ & Other Social Networks [Infographic]
How online and social media is helping traditional channels to evolve
26/08
Heinz offers users the chance to get name engraved on bean
ntent is King
50 Facebook facts that'll fascinate small businesses
17/08
Fours things to always avoid in social media
kluiauuj Shared by misspunjabhi
Why social media means customer service can make or break your brand
Nissan Revs Up Facebook Marketing
The 6 Types Of Social Media Users
3 Social Media Mistakes You Don't Know You're Making
22/06
20 TV Shows With the Most Social Media Buzz This Week
16/06
The Beginner's Guide to Social Media
Using Social Media To Engage An Audience – A Case Study
10 interesting digital stats we've seen this week
Inside GM's Chevy's Social Media Strategy
Sprint Takes Twitter to Times Square
Who owns your social media accounts?
03/06
Hello You Creatives
Kindred Agency Blog
21/04
24/03
17/03
03/03
60 Seconds on Social Web in 2012 : Infographic | Online Marketing Trends
25/02
Grovo's History Of Social Media
kh8husmj Shared by misspunjabhi
Social Media Makes Teens Aware Of Others' Needs, Study Says
Social Media ROI: Facebook Vs Twitter Vs Linkedin | Online Marketing Trends
Social Media Marketing: An Easy Guide
28/01
10 Historical Events Affected by Social Media
The World of Social Media #videoinfographic
Should Teachers and Students Be Allowed to Communicate Via Social Media? Follow Up
KLM Live Reply: 140 characters, 140 KLM employees
6 Ways to Track the Impact of Social Media on Public Relations
5 Social Media Tips for Scoring Your Next Job
Using social media at live events: best practice tips
How We'll Beat Traffic and Find Parking Spots in the Future
Motorola releases Xoom tablet in US
The Imperial War Museum's social media big guns
AppBoy Releases A Check-in SDK For iOS Apps
Social media drawing in early adopting shoppers
Man Partially Bites Off Ears After Facebook Fight
Google Adds New Filtering Options to Mobile Places Search