Tout Mieux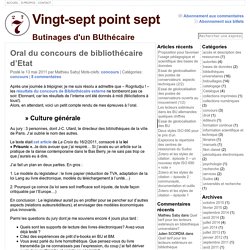 Posté le 13 mai 2011 par vingtseptpointsept| Mots-clefs: concours | Catégories: concours | - (Les commentaires sont clos) Après une journée à trépigner, je me suis résolu a admettre que – Rogntudju ! – les résultats du concours de Bibliothécaire externe ne tomberont pas ce soir.
Oral du concours de bibliothécaire d'Etat « Vingt-sept point sept
A la suite de Liberlibri, qui présente l'épreuve de dissertation et de note de synthèse du concours de conservateur externe, voici le sujet de l'étude de cas pour le concours de bibliothécaire interne. Etude de cas portant sur les aspects de la gestion d'une bibliothèque ou d'un réseau documentaire Durée : 4 heures Coefficient 4 Vous êtes bibliothécaire au SCD de l'Université d'Alembert, affecté(e) à la BU pluridisciplinaire Centre-ville, et avez entre autres la responsabilité des collections de sciences et sciences de l'ingénieur. En février 2009, le directeur de l'IUT A voisin -il se trouve à 300 mètres de la BU- a fait part à votre directrice de deux problèmes : sa bibliothèque (associée au SCD) connaissait une baisse constante de la fréquentation ; parallèlement, l'IUT manquait de place pour ses activités de formation continue.
Bibliothécaire interne (Etat), étude de cas - Blabla Bibli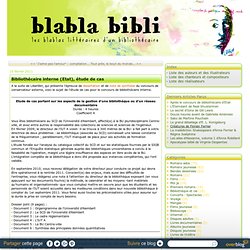 http://www.myyogaonline.com/
Welcome to the home of Barbara Sher's WISHCRAFT!
'Smile, breathe and go slowly.' ~Thich Nhat Hanh By Leo Babauta While some of you have been following Zen Habits since its early days (beginning of 2007), many of you are fairly new readers.