Missbreck
Makeup. 15 Chic and Creative Ways to Tie a Scarf | The Fashion Spot - StumbleUpon. How to tie a half-bow scarf To tie the half-bow scarf, you should first loop the scarf around your neck and tie once– like the first step of tying your shoelaces.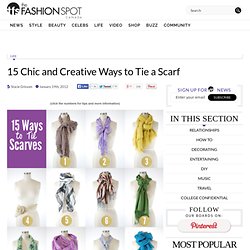 Then, take one side of the scarf and make a one loop, as if you were only tying one side of the bow on your shoes. Take the longer section of the scarf and wrap it in front and then behind the entire scarf, next to your neck. Pearls.com. Hairstyles! Makeup. 9 Charmingly Delightful Beauty Techniques from All Over the World &8230; - StumbleUpon.
Beauty techniques are highly beneficial, but some of them are incredibly recycled.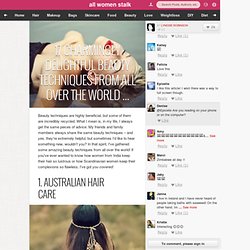 What I mean is, in my life, I always get the same pieces of advice. My friends and family members always share the same beauty techniques – and yes, they're extremely helpful, but sometimes I'd like to hear something new, wouldn't you? In that spirit, I've gathered some amazing beauty techniques from all over the world! If you've ever wanted to know how women from India keep their hair so lustrous or how Scandinavian women keep their complexions so flawless, I've got you covered!
My godfather's ex-wife (convoluted, I know) is a native of Australia. D.I.Y. Curls // How To Rag Roll Your Hair - A Beautiful Mess - StumbleUpon. I love the look of naturally curly hair!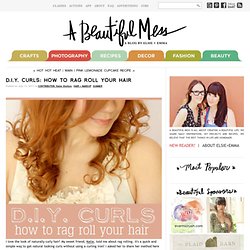 My sweet friend, Katie, told me about rag rolling. It's a quick and simple way to get natural looking curls without using a curling iron! Beauty Tips. Makeup-techniques. Make-up - StumbleUpon. Get your cook on. - StumbleUpon.
Pearltrees videos
Getting started.
---
missbreck Feb 11 2012

Wow thanks for checking in. Lots of questions, just trying to learn how to navigate this thing. Lots of pop ups
---