Recipes
Red Velvet Cheesecake Brownies | Sweet Pea's Kitchen - StumbleUpon. Red Velvet Cheesecake Brownies These Red Velvet Cheesecake Brownies are rich, decadent and so perfect for Valentine's Day!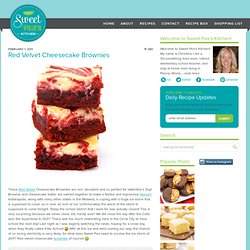 Brownie and cheesecake batter are swirled together to make a festive and impressive dessert. Indianapolis, along with many other states in the Midwest, is coping with a huge ice storm that is supposed to cover us in over an inch of ice. Homemade Orange Julius | Eat Nourishing. Recipe Description: The Original Orange Julius is a classic drink that is nutritious and easy to make.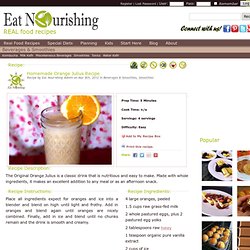 Made with whole ingredients, it makes an excellent addition to any meal or as an afternoon snack. Nutella Hot Chocolate. All is right in the world when you drink this little concoction of mine.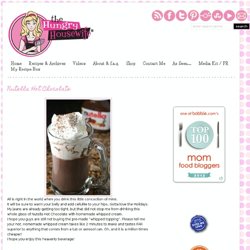 It will be sure to warm your belly and add cellulite to your hips. Gotta love the Holidays. My jeans are already getting too tight, but that did not stop me from drinking this whole glass of Nutella Hot Chocolate with homemade whipped cream. Baking Bread. Baking bread is one of the most glorious afternoon activities there is to enjoy.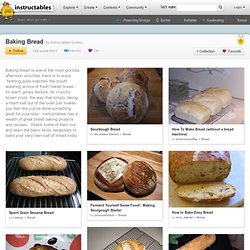 Nothing quite matches the mouth watering aroma of fresh baked bread - its warm gooey texture, its crunchy brown crust, the way that simply taking a fresh loaf out of the oven just makes you feel like you've done something good for your soul. Instructables has a wealth of great bread baking projects and recipes. Check some of them out and learn the basic skills necessary to bake your very own loaf of bread today. Chocolate Malted & Toasted-Marshmallow Layer Cake - Semisweetie, A geeky baking and recipe blog - StumbleUpon. Recipe: Sweetapolita's Campfire Delight Total time: 4 hours Ease: Intermediate Unusual ingredients: malted milk powder, whipping cream, marshmallows, marshmallow fluff, unsweetened cocoa powder, coffee Marshmallows.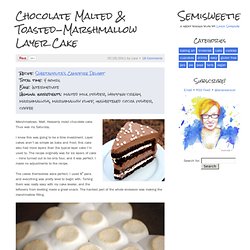 Malt. Heavenly moist chocolate cake. Thus was my Saturday. Birthday cake fudge | Love The Day. I have a major, like SUPER MAJOR weakness for anything cake related.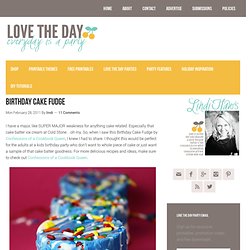 Especially that cake batter ice cream at Cold Stone…oh my. So, when I saw this Birthday Cake Fudge by Confessions of a Cookbook Queen, I knew I had to share. I thought this would be perfect for the adults at a kids birthday party who don't want to whole piece of cake or just want a sample of that cake batter goodness. For more delicious recipes and ideas, make sure to check out Confessions of a Cookbook Queen.
---