Dorm Life
College Dorm Room Decorating Ideas, Dorm Decor Tips | DormDelicious. Oats: The Cheap and Multipurpose Food. In college, we're always looking for things that can serve more than one purpose.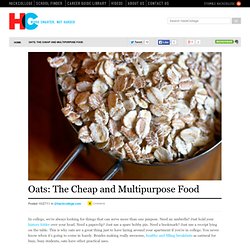 Need an umbrella? Just hold your history folder over your head. College Fashion - Tips, trends and style for students. Salted Caramel Chocolate Chip Cookies - The SparkCollege Blog. Arranging a dorm room is a lot like playing Tetris.
Luckily, I rock at Tetris. Which means I easily transitioned into being a dorm room domestic. Dormitory Quesadillas - The SparkCollege Blog. It's been barely two weeks and I'm already sick of dorm food, fast food, and snack food.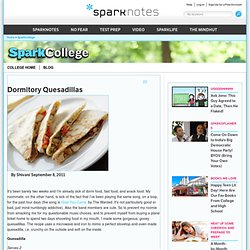 My roommate, on the other hand, is sick of the fact that I've been playing the same song, on a loop, for the past four days (the song is Glad You Came, by The Wanted. It's not particularly good or bad, just mind-numbingly addictive). Also the band members are cute. So to prevent my roomie from smacking me for my questionable music choices, and to prevent myself from buying a plane ticket home to spend two days shoveling food in my mouth, I made some gorgeous, gooey quesadillas. Shivani Makes Quiche Lorraine (with BACON!) - The SparkCollege Blog. When I was in high school, visiting seniors would prattle on and on about how much free time they had in college.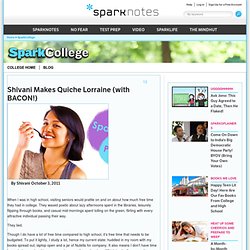 They waxed poetic about lazy afternoons spent in the libraries, leisurely flipping through books, and casual mid-mornings spent lolling on the green, flirting with every attractive individual passing their way. They lied. Though I do have a lot of free time compared to high school, it's free time that needs to be budgeted. To put it lightly, I study a lot, hence my current state: huddled in my room with my books spread out, laptop open and a jar of Nutella for company. It also means I don't have time to ass-hat around making up new microwave-themed recipes.
College Dorm Room Checklist: What to Bring to College. Helping you pack an essential supply for your first year of college dorm life Before running out to the nearest store to purchase the items for your dorm room, it's a great idea to check out your college's Web site (more specifically their Office of Residence Life page).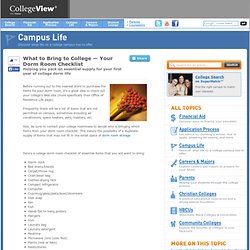 Frequently there will be a list of items that are not permitted on campus, sometimes including air conditioners, space heaters, pets, toasters, etc. Also, be sure to contact your college roommate to decide who is bringing which items from your dorm room checklist. This lowers the possibility of a duplicate supply of items that may not fit in the small space of dorm room storage. Tips on Packing For College. Stick to this rule of thumb: if you think twice about taking it, leave it at home You endured the SAT, breezed through the college interviewing process, and finally settled on your college.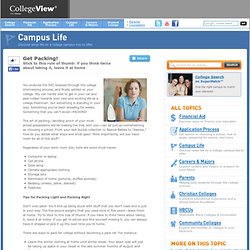 You can hardly wait to get in your car and peel rubber towards your new and exciting life as a college freshman…but something is standing in your way. Something you've been dreading for weeks. How to Prepare for Dorm Life.
---