Forms
An expanding text area is a multi-line text input field that expands in height to fit its contents. This UI element is commonly found in both desktop and mobile applications, such as the SMS composition field on the iPhone. Examples can also be found on the web, including on Facebook, where it's used extensively. It's a good choice wherever you don't know how much text the user will write and you want to keep the layout compact; as such, it's especially useful on interfaces targeted at smartphones. Issue № 338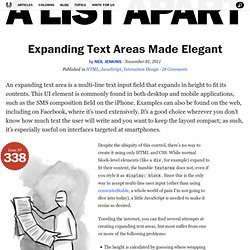 Expanding Text Areas Made Elegant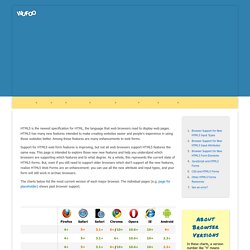 JavaScript and HTML5 Forms Testing for Support If you intended to write JavaScript to mimic the functionality of HTML5 forms, you may want to first test the current browsers capability and write the JavaScript as a fallback. On the right is how you might test for attribute support. More accurate feature testing can be done through the excellent JavaScript library Modernizr.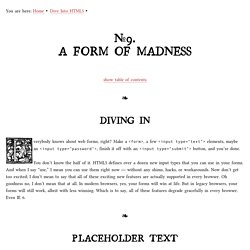 You are here: Home Dive Into HTML5 Diving In Everybody knows about web forms, right? Make a <form>, a few <input type="text"> elements, maybe an <input type="password">, finish it off with an <input type="submit"> button, and you're done. You don't know the half of it. HTML5 defines over a dozen new input types that you can use in your forms.
Par Anthony T Il existe plusieurs manières de disposer les labels sur les formulaires. En général, les designers web les placent soit au‑dessus, soit à gauche des zones de texte. Mais jusqu'à récemment, personne ne pensait à les insérer à l'intérieur. On commence à rencontrer de plus en plus fréquemment des formulaires de ce genre. Plus ils gagnent en popularité, plus les designers web auront tendance à les utiliser.
Comment bien placer des labels dans leur zone de texte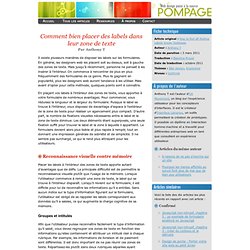 Lanbito: Mobile Form Builder
Lanbito is a revolutionary online form builder, with which you'll create forms that look and feel just native on iPhone, iPad, even Mac and PC. A mobile website is, mobile text, mobile images, and mobile forms. All forms are based on HTML5. Did iPhone/iPad users complain about the forms on your website?