Cross-browser
Firebug Guide for Web Designers. Firebug — an open source web development tool extension for the Mozilla Firefox web browser — is incredibly powerful, with a wide range of super useful and practical features that would benefit any web designer or developer.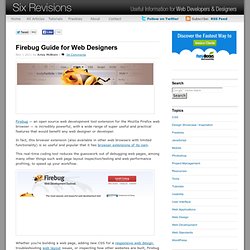 In fact, this browser extension (also available in other web browsers with limited functionality) is so useful and popular that it has browser extensions of its own. This real-time coding tool reduces the guesswork out of debugging web pages, among many other things such web page layout inspection/testing and web performance profiling, to speed up your workflow. Whether you're building a web page, adding new CSS for a responsive web design, troubleshooting web layout issues, or inspecting how other websites are built, Firebug is going to be a valuable tool in your arsenal. When can I use... Support tables for HTML5, CSS3, etc.
Review Of Cross-Browser Testing Tools - Smashing Magazine. Advertisement At some point in the future, the way that all major browsers render Web code will likely be standardized, which will make testing across multiple browsers no longer necessary as long as the website is coded according to Web standards.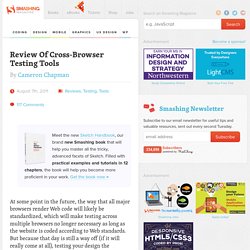 But because that day is still a way off (if it will really come at all), testing your design the advanced browsers as well as legacy browsers is a necessary part of any project. The old-school way to test code was to load your website on as many computers as you could find, using as many different combinations of browsers and operating systems as possible. That was fine if you had access to a bunch of different computers (and had some time to kill).
---