Best practices
An old guys guide to building modern websites. Season 2: The estimated time to read this article is 12 minutes Subscribe to this podcast using iTunes or RSS | Download this show When you have such a talented bunch of coders you don't tend to code much yourself.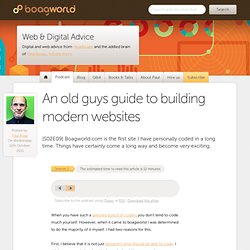 What We Don't Know. We don't know which browser, which version of that browser, or what kind of computer a user visiting our website is using.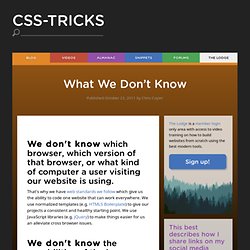 That's why we have web standards we follow which give us the ability to code one website that can work everywhere. We use normalized templates (e.g. HTML5 Boilerplate) to give our projects a consistent and healthy starting point. We use JavaScript libraries (e.g. jQuery) to make things easier for us an alleviate cross browser issues. We don't know the capabilities of the browser the user is visiting our website with. Web Standards Sherpa. Front-end Code Standards & Best Practices | Isobar North America.
Overview This document contains guidelines for web applications built by the Creative Technology (front end engineering) practice of Roundarch Isobar.
It is to be readily available to anyone who wishes to check the iterative progress of our best practices. This document's primary motivation is two- fold: 1) code consistency and 2) best practices.
---