user research
Get flash to fully experience Pearltrees
Home | Site Map | Watch | FAQ | History | Store | Contact originally published in The Psychological Review, 1956, vol. 63, pp. 81-97 (reproduced here, with the author's permission, by Stephen Malinowski ) Belorussian translation German translation
By elya妞 on 2012年03月6日 做触屏手机产品设计,要注意所有的可点击元素都有足够的点击区域,但是这并不是说你要把所有的按钮图标链接都设计的足够大,手机上的视觉焦点和操作焦点是不一样的,操作焦点是可被放大或移动的点击区域。 这里分享几个点击区域的小秘密,帮你解决操作准确率的问题。
在新家一点点安顿了下来,不过心里还是缺乏踏实的方向感;猫猫们也都有些瞻前顾后草木皆兵的样子,有待继续习惯;希望大家都好好的。话说眼前的这篇候选文章貌似已然有同行做过译文,不过正像 " 关于BeForWeb "中所说的,我只挑那些我喜欢的 、对我自己有学习和收藏价值的内容来做译文,其他方面的因素和我没有半毛钱的关系。不多说,直接进入正题。
豆瓣
A/B testing isn't a buzz term. A lot of savvy marketers and designs are using it right now to gain insight into visitor behavior and to increase conversion rate. And yet A/B testing is still not as common as such Internet marketing subjects as SEO, Web analytics and usability.
iOS 键盘 为什么 iOS 的键盘如此出色,其他系统的虚拟键盘虽然在尺寸上基本超过 iOS 键盘,而它们的视觉体验还是操作体验相比之下显得像一团渣,为什么?
目前国内企业的UED团队里面我最欣赏的是 淘宝的UED Team 。原因并非是他们多么专业,也不是因为他们做出来了多少的成绩,而是:这是一个充满生机、充满创意、不断吸取知识勇于敢于创新和接受挑战的一个团队;他们有着所有设计团队本应该具备但大多数团队还没有具备的品质:团结、创新。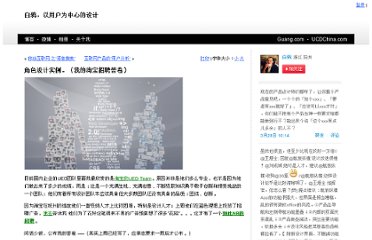 尼尔森团队关于iPad的调研报告,点击查看: 版本一 版本二
Learn how iPad users interact with apps and websites on their devices, and whether usability improves with time as people practice and learn new interfaces. The design guidelines are based on 2 rounds of usability studies, conducted one year apart. We observed participants working on their own iPads to accomplish a broad variety of tasks.