Wood working
Open Make Maker: Bernie Lubell. BERNIE LUBELL interactive wood machines. A Horse With No Name. Brenton Bostwick's Booth at the KPFA Craft and Music (and Art) Fair in San Francisco - Dec. 2009. Kinetic Sculpture - Moving woods - Kinetic Art. Phoenix kinetic sculpture by David C. Roy © 2005. Maker Profile - Kinetic Wave Sculptures on MAKE: television.
Peg Mirror" (2007) by Daniel Rozin. Heather Jansch - Sculptor - Driftwood - Bronze. WWA Wood Sampler. 55 Great Sites For Woodworkers | Construction Management Schools. Do you have a love for woodworking?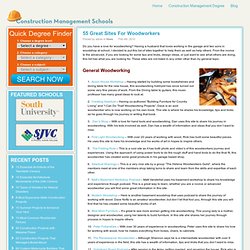 Having a husband that loves working in the garage and two sons in woodshop at school, I decided to put this list of sites together to help them as well as help others. From the novice to the advanced, if you are looking for some tips and tricks, design ideas, or just want to see what others are doing, this list has what you are looking for. These sites are not listed in any order other than by general topic. Rocking Chairs by Hal Taylor.
Ancient Kauri wood. Ancient Kauri wood.
---