Web history future
TechHub - Semantic Web Patterns: A Guide to Semantic Technologies. In this article, we'll analyze the trends and technologies that power the Semantic Web.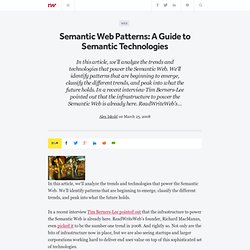 We'll identify patterns that are beginning to emerge, classify the different trends, and peak into what the future holds. In a recent interview Tim Berners-Lee pointed out that the infrastructure to power the Semantic Web is already here. ReadWriteWeb's founder, Richard MacManus, even picked it to be the number one trend in 2008. And rightly so. Not only are the bits of infrastructure now in place, but we are also seeing startups and larger corporations working hard to deliver end user value on top of this sophisticated set of technologies.
Web visionaries. Web revolutions. Web evangelists. Current Web. Web trends apps tech etc.
---