Tacoma ART
Wer bereits lange als Übersetzer tätig ist, der wird vielleicht wissen, wie aufwändig es einst war, eine Übersetzung anzufertigen, denn man beherrscht eine Sprache niemals in allen ihren Feinheiten. Da war Recherche notwendig. Diese Informationen musste man sich früher aus Büchern zusammensuchen. Heute leben wir aber im Zeitalter der modernen Technologie und damit sind diese wertvollen Informationen nun nur einen Mausklick entfernt.
Tacoma Art Place :: Home Page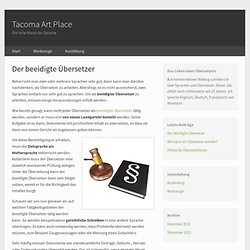 NW Wood Carvers Assn.
Calls to Artists There are currently 3 calls available. Scroll down to see all opportunities. Tacoma Studio Tour
Tacoma Culture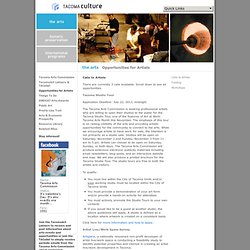 Puyallup Fair
Manitou Art Center
Our instructors will help you experience the magic of hot glass! *Currently Every Saturday & Sunday by appointment* This hands-on session allows you to pick and apply colors, twist and turn them if you want, then blow or shape them into a unique and beautiful piece of art glass. Pick from one of nine shapes created and designed by you.
Tacoma Glassblowing Studio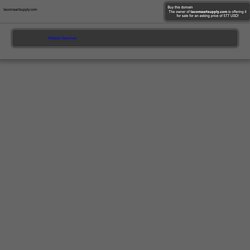 T A C O M A A R T S U P P L Y . C O M
Please patronise locally owned Artco, Clay Art Center, Frame Makers and whatever other art supply companies are left in town. Useful Links Tacoma Community College Open Arts Studio
Tyrone Patkoski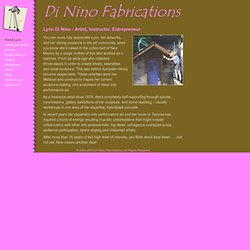 You can more fully appreciate Lynn, her artworks, and her strong presence in the art community, when you know she's raised in the cotton belt of New Mexico by a single mother of five who worked as a waitress. From an early age she collected throw-aways in order to create shoes, wearables, and small sculpture. This was before dumpster-diving became respectable. These activities were her lifeblood and continue to inspire her current sculpture-making, and enactment of ideas into performance art. As a freelance artist since 1974, she's completely self-supporting through private commissions, gallery exhibitions of her sculpture, and some teaching – usually workshops in one area of her expertise, hybridized concrete.
Di Nino Fabrications - Lynn Di Nino's Biography
ART SLAM CONTEST
PSGNP
October 11 & 12, 2014 Come see the spaces in and tools with which local artists create their work, ask questions, purchase one-of-a-kind creations, and even try your hand at creating your own masterpiece. All studios will feature demonstrations of the artistic process or will have hands-on activities for visitors. With so many artists to choose from, all you have to figure out is which studios are on your 'not-to-be-missed' list.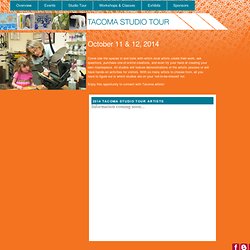 ART AT WORK