Tacoma ART
Tacoma Art Place :: Home Page
NW Wood Carvers Assn.
Calls to Artists There is currently 2 calls available. Scroll down to see all opportunities. National Arts Program Visual Art Exhibit
Tacoma Culture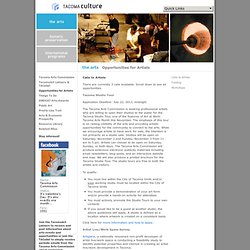 Puyallup Fair
Manitou Art Center
Tacoma Glassblowing Studio
T A C O M A A R T S U P P L Y . C O M
Tyrone Patkoski
Di Nino Fabrications - Lynn Di Nino's Biography
ART SLAM CONTEST
PSGNP
Come see the spaces in and tools with which 55 local artists create their work, ask questions, purchase one-of-a-kind creations, and even try your hand at creating your own masterpiece. All studios will feature demonstrations of the artistic process or will have hands-on activities for visitors. With so many artists to choose from, all you have to figure out is which studios are on your "not-to-be-missed" list. Click on the map above to plot your own customized tour and learn more about each artist.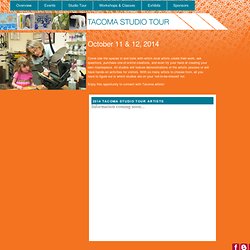 ART AT WORK