Synesthesia
Experience: I feel other people's pain | Life and style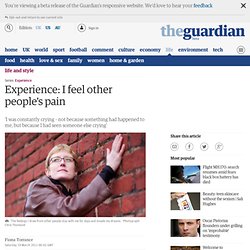 'The feelings I draw from other people stay with me for days and invade my dreams.' Photograph: Chris Thomond When I watch a film, I feel as if I'm in starring in it. The Girl With The Dragon Tattoo was horrific.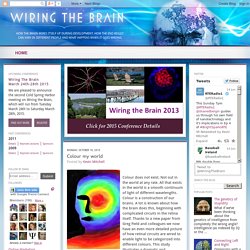 Colour does not exist. Not out in the world at any rate. All that exists in the world is a smooth continuum of light of different wavelengths. Colour is a construction of our brains. A lot is known about how the brain does this, beginning with complicated circuits in the retina itself.
Colour my world
Synesthesia overview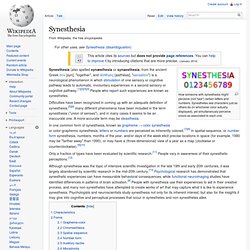 Synesthesia
How someone with synesthesia might perceive (not "see") certain letters and numbers. Synesthetes see characters just as others do (in whichever color it's actually displayed), yet simultaneously perceive colors as associated to each one. Synesthesia (also spelled synæsthesia or synaesthesia, plural synesthesiæ or synæsthesiæ), from the ancient Greek σύν (syn), "together", and αἴσθησις (aisthēsis), "sensation", is a neurological condition in which stimulation of one sensory or cognitive pathway leads to automatic, involuntary experiences in a second sensory or cognitive pathway.[1][2][3][4] People who report such experiences are known as synesthetes.