RenderMan
Internet Visualization. Copyright © Pixar Animation Studios Here is a movie created for Pixar's RenderMan Courseware that visualizes internet connectivity across the world.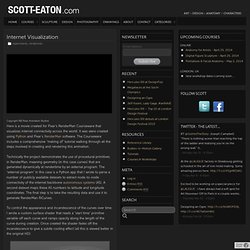 It was were created using Python and Pixar's RenderMan software. The Courseware includes a comprehensive "making of" tutorial walking through all the steps involved in creating and rendering this animation. To control the appearance and incandescence of the curves over time I wrote a custom surface shader that reads a "start time" primitive variable off each curve and ramps opacity along the length of the curve during creation. Once created the shader fades off the incandescence to give a subtle cooling effect (all this is viewed better in the original HD). Dynamic Procedural Displacement – Raindrops on Glass. Custom Displacement Shading – Tracks in the Snow. Copyright © Pixar Animation Studios Here is another video I developed for Pixar's RenderMan Courseware, this one demonstrates an interesting techniques that can be achieved with a fairly simple custom displacement shader that relies mostly on an understanding of the fundamentals of computer graphics.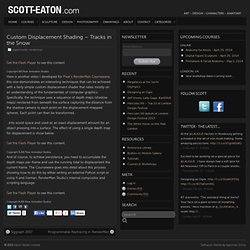 Specifically, the technique uses a sequence of depth maps (shadow maps) rendered from beneath the surface capturing the distance from the shadow camera to each point on the displacement-mapped spheres. Programmable Raytracing in RenderMan. Here are a couple experiments put together for Pixar's RenderMan Courseware which demonstrate programmable raytracing in RenderMan.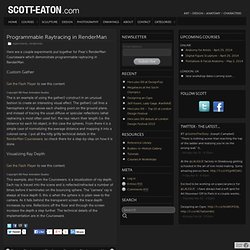 Custom Gather Copyright © Pixar Animation Studios. S RenderMan® Just getting started?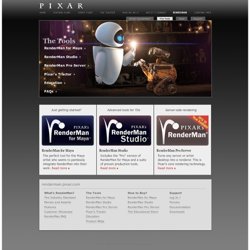 RenderMan for Maya The perfect tool for the Maya artist who wants to painlessly integrate RenderMan into their work. Read more Advanced tools for TDs RenderMan Studio.
---