Politics
6 Mind-Blowing Ways Zombies and Vampires Explain America. Here's the weirdest graph you'll see all week.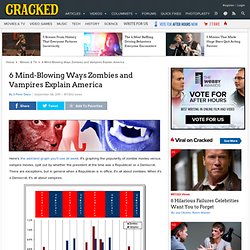 It's graphing the popularity of zombie movies versus vampire movies, split out by whether the president at the time was a Republican or a Democrat. There are exceptions, but in general when a Republican is in office, it's all about zombies. When it's a Democrat, it's all about vampires: Via mrscienceshowAnd apparently all our apocalypses started with Eisenhower. Night of the Living Dead shambled into cinemas during the Nixon era. Cheney reveals continued approval of torture and war, predicts "exploding heads" Posted by Anonymous on September 3, 2011 Lawrence Wilkerson explains how the false information about mobile biological labs, an Iraqi nuclear program and WMDs in Iraq was presented by CIA director George Tenet and his team.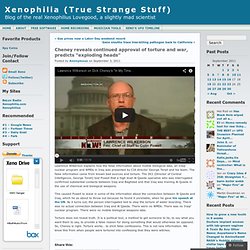 The false information came from known bad sources and torture. The DCI (Director of Central Intelligence, George Tenet) told Powell that a high level Al Qaeda operative who was interrogated confirmed substantial contacts between Iraq and Baghdad and that Iraq was training Al Quada in the use of chemical and biological weapons. This caused Powell to leave in some of the information about the connection between Al Qaeda and Iraq, which he as about to throw out because he found it unreliable, when he gave his speech at the UN. National debt by U.S. presidential terms. US federal debt held by the public as a percentage of GDP, from 1790 to 2013, projected to 2038.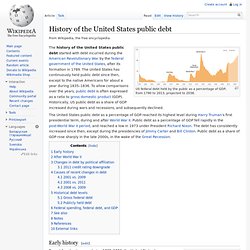 The history of the United States public debt started with debt incurred during the American Revolutionary War by the federal government of the United States, after its formation in 1789. The United States has continuously held public debt since then, except to the native Americans for about a year during 1835–1836.
To allow comparisons over the years, public debt is often expressed as a ratio to gross domestic product (GDP). U.S. National Debt Clock FAQ. "The budget should be balanced; the treasury should be refilled; public debt should be reduced; and the arrogance of public officials should be controlled.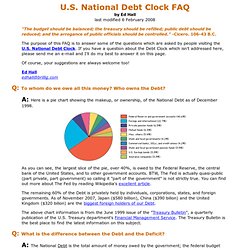 " -Cicero. 106-43 B.C. The purpose of this FAQ is to answer some of the questions which are asked by people visiting the U.S. National Debt Clock. If you have a question about the Debt Clock which isn't addressed here, please send me an e-mail and I'll do my best to answer it on this page. Forget Anonymous: Evidence Suggests GOP Hacked, Stole 2004 Election. Three generations from now, when our great-grandchildren are sitting barefoot in their shanties and wondering how in the hell America turned from the high-point of civilization to a third-world banana republic, they will shake their fists and mutter one name: George Effin' Bush.Ironically, it won't be for any of the things that liberals have been harping on the Bush Administration, either during or after his term in office.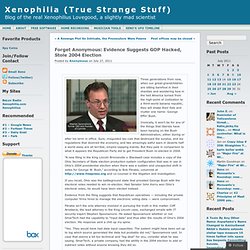 Sure, misguided tax cuts that destroyed the surplus, and lax regulations that doomed the economy, and two amazingly awful wars in deserts half a world away are all terrible, empire-sapping events. But they pale in comparison to what it appears the Republican Party did to get President Bush re-elected in 2004. Obama's and Bush's effects on the deficit in one graph - Ezra Klein. Culture Connoisseur Badge Culture Connoisseurs consistently offer thought-provoking, timely comments on the arts, lifestyle and entertainment.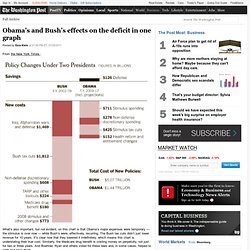 More about badges | Request a badge Washingtologist Badge Washingtologists consistently post thought-provoking, timely comments on events, communities, and trends in the Washington area. Post Writer Badge. Transparency. What Congress Would Look Like If It Were Demographically Representative of America. All sizes | Who Increased The Debt? 'I had to psychologically dislocate a detainee': Former CIA agent reveals 'torture' methods and secret prison in memoir.
Ordered to 'psychologically dislocate' his prisonerFaced agonising decision after concluding detainee was innocentHad to tell CIA bosses he was in love with his girlfriend - before he told her By Daily Mail Reporter Updated: 09:32 GMT, 4 July 2011 Interrogator: Glenn Carle, who has written a tell-all memoir about his time with the agency, said some people would call him a 'torturer' A former CIA operative has described how he was torn between serving his country and refusing to 'torture' a man he believed was innocent.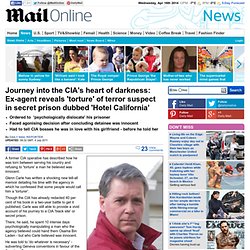 Glenn Carle has written a shocking new tell-all memoir detailing his time with the agency in which he confessed that some people would call him a 'torturer'. Though the CIA has already redacted 40 per cent of his book in a two-year battle to get it published, Carle was still able to provide a vivid account of his journey to a CIA 'black site' or secret prison. 10 Most Ridiculous Fox News Lies, Creative Edits, and Half-Truths - Spiteful Critic.
All sizes | Left vs Right: US Political Spectrum. Gandhiji.
---