Paper artists
Books transformed into visual art. Origami artists have been transforming paper into varied, visually striking works of art since centuries.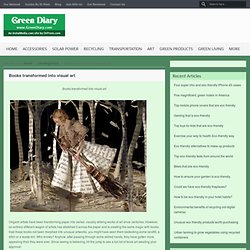 However, an entirely different wagon of artists has stretched it across the paper and is creating the same magic with books. Had these books not been morphed into unusual artworks, you might have seen them bedecking some landfill, a ditch or a waste-bin. Who knows? Paper Art. Paper art can be traced back to Japan, where it originated over a thousand years ago.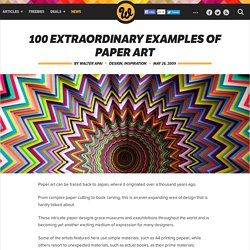 From complex paper cutting to book carving, this is an ever expanding area of design that is hardly talked about. These intricate paper designs grace museums and exauhibitions throughout the world and is becoming yet another exciting medium of expression for many designers. Silhouette Masterpiece Theatre. Paper Cuts.
Izziyana Suhaimi We've been seeing a lot of embroidered art as of late but I must say that so far, I've been most impressed by Singaporean artist Izziyana Suhaimi's work.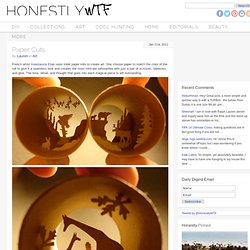 I can't get over how skillfully she is able […] A Due Colore I still can't get over how Alberto Seveso can make something as simple as ink in water look so captivating. Each photo, in his latest series, captures duos of vibrant pigments, entwining in the most breathtaking […] Works: Noriko Ambe. Strange Stuff And Funky Things. Die for the Money. Mar 22, 2011 Artwork by SCOTT CAMPBELL Scott Campbell, Skull Cube, 2010, Cut US currency, 9 x 6 x 4 inches Scott Campbell is a sort of semiotician, studying the signs, symbols, and text, commonly found in tattoo culture.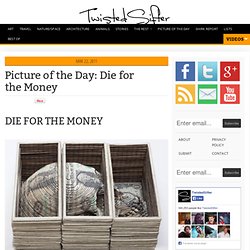 His work investigates a familiar lowbrow vernacular, and points out the irony existing within that imagery. ABC3D. Expressive Masterpiece Collection of Paper Art Sculptures. Sculpture is used as a mode of public art, where it requires a lot of time and great amount of inspiration and experience to come up with a masterpiece.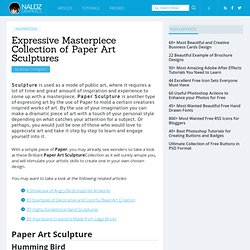 Paper Sculpture is another type of expressing art by the use of Paper to mold a certain creatures inspired works of art. By the use of your imagination you can make a dramatic piece of art with a touch of your personal style depending on what catches your attention for a subject. Or perhaps, you would just be one of those who would love to appreciate art and take it step by step to learn and engage yourself into it. With a simple piece of Paper, you may already see wonders so take a look at these Brilliant Paper Art SculptureCollection as it will surely amaze you, and will stimulate your artistic skills to create one in your own chosen design.
---