Open Courseware
OpenCourseWare Europe > Welcome. Free Online Course Materials | MIT OpenCourseWare. Open Learning Initiative. Free university lectures - computer science, mathematics, physics, chemistry. Whether your goal is to earn a promotion, graduate at the top of your class, or just accelerate your life.
Lectures can help get you there. Our archives of lectures cover a huge range of topics and have all been handpicked and carefully designed by experienced instructors throughout the world who are dedicated to helping you take the next step toward meeting your career goals. With OnlineCourses.com's engaging collection of lectures, your free time will turn into self-improvement time. Our online lectures are more than lecture notes or a slideshow on a topic; they were designed for audiences like you, with carefully sequenced themes and topics taught by veteran educators, and often with additional resources for your own independent study.
Academic Earth | Online Courses | Academic Video Lectures. MIT World | Distributed Intelligence. 375 Free Online Courses from Top Universities. Try Audible Now & Get a FREE Audiobook!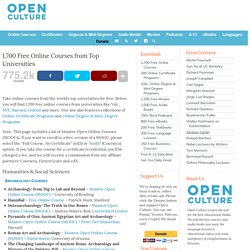 Get free online courses from the world's leading universities – Stanford, Yale, MIT, Harvard, Berkeley, Oxford and more. You can download these audio & video courses (often from iTunes, YouTube, or university web sites) straight to your computer or mp3 player. Over 30,000 hours of free audio & video lectures, await you now. Humanities & Social Sciences Art & Art History Courses. OPENCOURSEWARE Le savoir en partage ! Open CourseWare.
---