Open Courseware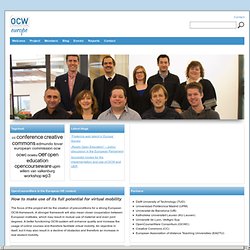 The focus of the project will be the creation of preconditions for a strong European OCW-framework. A stronger framework will also mean closer cooperation between European institutes, which may result in mutual use of material and even joint degrees. A better functioning OCW-system will enhance quality and increase the usage of online courses and therefore facilitate virtual mobility. An objective in itself, but it may also result in a decline of obstacles and therefore an increase in real student mobility.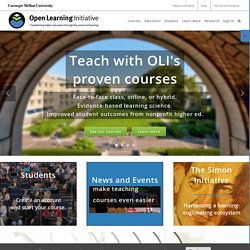 What people are saying This innovation that we're bringing into our teaching and learning doesn't have to be invented course by course and university by university. Working together in collaboration, as we are, we can accelerate this process of bringing these strategies into our classrooms and into our universities. Dr. William E. "Brit" Kirwan, Chancellor, University System of Maryland, OLI event hosted by CMU in Washington D.C.
Whether your goal is to earn a promotion, graduate at the top of your class, or just accelerate your life. Lectures can help get you there. Our archives of lectures cover a huge range of topics and have all been handpicked and carefully designed by experienced instructors throughout the world who are dedicated to helping you take the next step toward meeting your career goals. With OnlineCourses.com's engaging collection of lectures, your free time will turn into self-improvement time. Our online lectures are more than lecture notes or a slideshow on a topic; they were designed for audiences like you, with carefully sequenced themes and topics taught by veteran educators, and often with additional resources for your own independent study.
Academic Earth believes everyone deserves access to a world-class education, which is why we continue to offer a comprehensive collection of free online college courses from the world's top universities. And now, we take learning outside the classroom with our original series of thought-provoking videos, designed to spark your intellectual curiosity and start a conversation. Watch, learn, share, debate. After all, only through questioning the world around us, can we come to better understand it.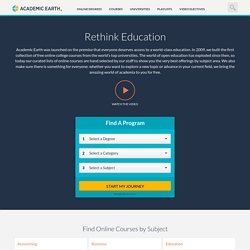 Get free online courses from the world's leading universities – Stanford, Yale, MIT, Harvard, Berkeley, Oxford and more. This collection includes over 875 free courses in the liberal arts and sciences. You can download these audio & video courses (often from iTunes, YouTube, or university web sites) straight to your computer or mp3 player. Over 30,000 hours of free audio & video lectures, await you now. Humanities & Social Sciences Art & Art History Courses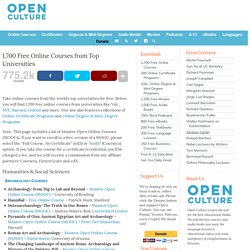 OPENCOURSEWARE Le savoir en partage !