Motors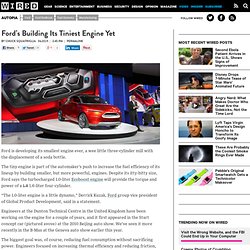 Ford is developing its smallest engine ever, a wee little three-cylinder mill with the displacement of a soda bottle.
Ford's Building Its Tiniest Engine Yet | Autopia
Hüttlin Kugelmotor
The forgotten Wolfhart Engine (the better "Kugelmotor")
rotary internal combustion engine
Spherical Internal Combustion Engine. Kugelmotor!
Hale Rotary Aero Engine Simulation 2
NEW ROTARY ENGINE!!
V8 Six Stroke Engine
Bourke Engine
Rotary Screw Compressors - Air System Fundamentals
Libralato Engine
Flying Saucer" Steampunk triple ltd engine
Worlds most efficient engine "The Edwards Winged Rotary"
Axial Vector Engine 12 cyl
THE SUPER-EFFICIENT ENGINE (PART 3)
NEW C-Skimmer wind power electric generator
Stirling V4 Engine 1 " Steampunk Ringbom Hot Air Engine
Stirling Low Temperature Difference Engines "
Hula Hula engine
newest technology: SUPER- EFFICIENT ENGINE SYSTEM
UT Arlington Pulsed Detonation Engine 25 Hz Ground Test
crazy engine" stirling Low Temperature Difference Engine
new engine
Chainsaw Bike
Weekend Project: Make an Explosion Engine
Plexiglass V8 engine
Tesla Turbine (Bladeless) - from gyroscope.com
HOW TO make a jam jar pulse jet THAT WORKS
World's Smallest Supercharged V8
DIY Turbo Jet Engine 自家製ジェットエンジン(自動車ターボ流用)
HOME MADE GAS TURBINE
My jet modal engine Turbine startup
V 12 Modellmotor RC Engine the original Video !
Kamps KJ-66 RC Model Turbine
Sternmotor