Motors
Ford's Building Its Tiniest Engine Yet | Autopia. Ford is developing its smallest engine ever, a wee little three-cylinder mill with the displacement of a soda bottle.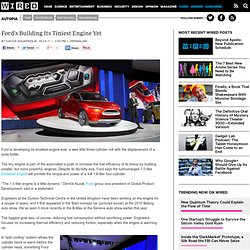 The tiny engine is part of the automaker's push to increase the fuel efficiency of its lineup by building smaller, but more powerful, engines. Despite its itty-bitty size, Ford says the turbocharged 1.0-liter Ecoboost engine will provide the torque and power of a 1.8 1.6-liter four-cylinder. "The 1.0-liter engine is a little dynamo," Derrick Kuzak, Ford group vice president of Global Product Development, said in a statement. Engineers at the Dunton Technical Centre in the United Kingdom have been working on the engine for a couple of years, and it first appeared in the Start concept car (pictured avove) at the 2010 Beijing auto show.
Hüttlin Kugelmotor. The forgotten Wolfhart Engine (the better "Kugelmotor") Rotary internal combustion engine. Spherical Internal Combustion Engine. Kugelmotor! Hale Rotary Aero Engine Simulation 2. NEW ROTARY ENGINE!! V8 Six Stroke Engine. Bourke Engine. Rotary Screw Compressors - Air System Fundamentals. Libralato Engine. Flying Saucer" Steampunk triple ltd engine. Worlds most efficient engine "The Edwards Winged Rotary" Axial Vector Engine 12 cyl. THE SUPER-EFFICIENT ENGINE (PART 3) NEW C-Skimmer wind power electric generator. Stirling V4 Engine 1 " Steampunk Ringbom Hot Air Engine. Stirling Low Temperature Difference Engines " Hula Hula engine. Rotary Engine. Newest technology: SUPER- EFFICIENT ENGINE SYSTEM. UT Arlington Pulsed Detonation Engine 25 Hz Ground Test. Crazy engine" stirling Low Temperature Difference Engine.
New engine. Chainsaw Bike. Weekend Project: Make an Explosion Engine. Plexiglass V8 engine. Tesla Turbine (Bladeless) - from gyroscope.com. HOW TO make a jam jar pulse jet THAT WORKS. World's Smallest Supercharged V8. DIY Turbo Jet Engine 自家製ジェットエンジン(自動車ターボ流用) HOME MADE GAS TURBINE. My jet modal engine Turbine startup. V 12 Modellmotor RC Engine the original Video ! Kamps KJ-66 RC Model Turbine. Sternmotor.
---